Robin Askew
"The Arts Council has piddled about in the cultural life of Great Britain for half a century." From this opening sentence, former arts administrator Richard Witts mounts a sustained attack on the cranky Council's waste, incompetence and stupidity, gleefully exposing fiasco after fiasco until the reader begins to marvel that any art actually gets done in this country under its auspices.
From its origins as a temporary emergency measure during WWII, originally inspired by a Nazi sympathiser and a pederast, the Council, he contends, "keeps facing the same problems as though they are fresh ones, learns little from its faults and failures, manipulates the time and energy of outsiders to no great purpose, and nourishes long-term problems through short-term remedies." Doubtless there are many men in suits who will take issue with the detail of his argument, but liberal folk who instinctively balk at any criticism of public subsidy for the arts for fear of playing into the hands of the philistines should turn straight to his astonishing account of how most of the £3.6 billion the Council has spent so far went in to the bottomless pit that is The Royal Opera House, Covent Garden. Here, thanks to the chicanery of a chicken farmer named Jack Donaldson, the cost of seats is pegged at an artificially high level to land more Council subsidy, even though the House routinely bleats in public that it cannot afford to reduce prices because of "inadequate" subsidy.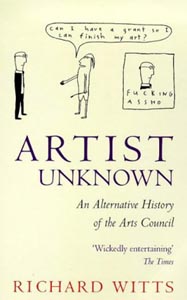 Inevitably, some of this is very dry and casual readers may find themselves skipping the swathes of detail about how the Council actually staggers along, but the accounts of politicking among the grandees are enlivened by Witts' wit and splendidly rude character assassinations. Of the agenda questions in one of the Council's many vast consultation documents that keep its pen-pushers in business, he notes: "Some, like number, nine – Can an improved network of venues be developed in the Welsh/English borders? – soon fell off the agenda because no one gave a toss about the Welsh/English borders." And it's difficult to resist a cast of characters that includes the 11th Earl of Drogheda ("one of the dimmest men ever to dither with the arts"), Old Vic Chairman Lord Esher ("an hereditary peer of paltry brain"), former Arts Council Chairman Lord Cottesloe (a "useless git"), and ex-Chancellor Derick Heathcoat Amory ("one of those closet gays who devote themselves to boy scouts and find the odd night at the opera most congenial"). Indeed, Witts seems particularly fascinated by homosexuality, making occasional politically incorrect reference to the lifting of shirts, and describing the Royal Opera House as "a debonair cruising base", as he explores the network of patronage and influence that keeps the show on the road.
Locally, you'll find Bristol's Arnolfini Gallery cited by one unnamed Council officer as an example of the emergent swinging sixties venues that "wanted to act like trendy London galleries on tax-payers' dosh", and there's an amusing story about a '50s Bristol Old Vic programme-filler called 'Salad Days': a hastily concocted musical about a magical piano that made everyone dance. The piano device was used to save on orchestra costs, but the show became an unexpected hit and transferred to the West End.
Witts' conclusion is a direct contradiction of Gerald Kaufman's contention that the arts world needs more philistines who can balance the books. He wants to see more practising artists on the Council's Board and to scrap the ten Regional Arts Boards, saving £8 million a year on "inept bureaucracy". It's a persuasive argument in light of the foregoing, but there is, of course, no guarantee that the creative types won't make as big a cock-up of it as their useless predecessors. Still, one can only applaud his suggestion that the Big Six companies – the Royal Opera, Royal Ballet, English National Opera, English National Ballet, Royal National Theatre and Royal Shakespeare Company – should be made to appear on a television programme presented by Anthea Turner or Mystic Meg to plead their cases before a Lottery audience.