Gary Marshall
I was five years old when Elvis died and, like most of my generation, my knowledge of Elvis is derived largely from muck-raking biographies, shockingly bad films, sightings documented in supermarket tabloids and documentaries about brain-damaged Elvis impersonators. With the exception of U2's embarrassing fandom no modern bands list Elvis as an influence and, for most people under thirty, Elvis will forever be the pathetic figure stalking the stages of Vegas. Careless Love explains how Elvis got there.
The follow-up to the extraordinary "Last Train To Memphis", Peter Guralnick's latest book documents Elvis' life from his Army days to his death in a Gracelands bathroom. If anything the book is even better researched and more detailed than the first instalment – weighing in at over six hundred pages, supplemented by detailed notes and explanations, Careless Love almost tells the story in real time.
The unsavoury aspects of Elvis' life have been detailed endlessly in biography after biography and, though Guralnick is no Albert Goldman, he doesn't shy away from showing the darker side to his subject. What makes Careless Love different is the writer's agenda – Guralnick is first and foremost a fan, and the book is his attempt to show how Elvis' talent was compromised by his own self-destructive tendencies and the ever-growing number of people who felt nothing but contempt for the man whilst eagerly awaiting the next hand-out. In this context Elvis' well-documented penchant for young girls, his serial infidelity and his obsessive pill-popping are shown dispassionately, allowing the reader to develop the picture of a child-like and desperately insecure man who was encouraged to do as he wished without complaint or constraint. The ultimate result of this unbridled and self-destructive behaviour was a legend who, towards the end of his career, alternated between impotence and incontinence and who was frequently so medicated that he could barely function.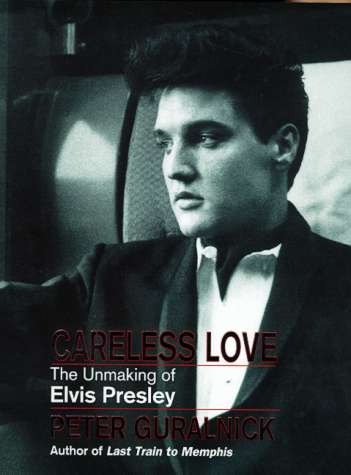 The main achievement of Careless Love is the way in which it strips away more than twenty years of accumulated legend to show the man behind the cartoon image, a story told largely by the people who worked with him and who inhabited the inner circle of confidantes. The deals struck by 'Colonel' Tom Parker which resulted in increasingly shoddy product and a punishing live schedule of up to three concerts per day are shown, not as the result of naked greed, but as the decisions of a man who understands money rather than artistic factors. In the context of Parker's ever-growing gambling debts, some of the more bizarre management decisions are understandable if misguided.
Reading Careless Love you're left with the believable portrait of a man whose extraordinary vocal talent brought him unimagined success – success that prevented Elvis from maturing beyond adolescence. As recording sessions and live engagements become more and more farcical and Elvis' drug use becomes increasingly problematic, Guralnick shows an artist out of control who drives away his closest friends, cheapens his work and frequently rages at the very fans who love him unconditionally. Unlike other biographies, however, Guralnick presents a very real picture of a desperately unhappy man who falls into addiction and controlling behaviour to mask his own insecurities and inadequacies.
Taken together, "Last Train To Memphis" and Careless Love make up the definitive biography of one of the twentieth century's key figures. In a sea of biographies that concentrate on the scandalous aspects of Elvis' life in order to sell copies, Guralnick's books bring the man vividly to life, warts and all. The exhaustive research can make the book heavy going at times but, for anybody with even a passing interest in pop or rock music, Careless Love is illuminating and essential reading.