Chris Mitchell
<!-adsense-->
Dr Kimberly Young has made something of a name for herself in the last few years with her research into the phenomenon of Internet addiction. Having set up the Centre for On-line Addiction and written numerous papers about Internet addicts over the last three years, Caught In The Net is a distilled account of her findings.
Young's book presents itself as both a case study collection and a self-help guide. Internet addiction is defined as the compulsive urge to continually use the Net, whether it be to spend hours surfing the Web, hang around in IRC chatrooms, or play on-line games. Young paints a disturbing picture of relationships being ruined, children being neglected and the addict's well-being being destroyed by their need for the Net.
But despite her credentials as Assistant Professor of Psychology at the University of Pittsburgh, there is a distinct lack of scholarly rigour to Young's writings. There are few statistics presented for the reader's scrutiny or concrete arguments for why Internet addiction is somehow comparable with alcohol or drug dependency. In fact, the main basis of the book's assertions appear to be a questionnaire to which four hundred Internet users responded. Given the millions of Net users around the world, this simply isn't enough of a research bedrock to justify Young's fear of a "potential epidemic" of Internet addiction.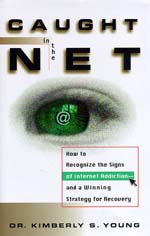 This absence of hard fact is covered over by Young's writing style, which wouldn't sound out of place on Oprah. While academics writing in an accessible style is always to be welcomed, Young has followed the tabloid "human interest" angle in her book. As such, the reader is presented with anonymous, bland case studies of addicts under alarmist chapter headings like "The Dark Side Of Cyberspace". Moreover, despite its claims to be a self-help book for Internet addicts, Caught in the Net is clearly written for an audience who have little direct experience of the Internet themselves. Young's assertions seem to thrive on the continuing myth of the Internet as some form of technological bogeyman, a role which has previously be assigned to video games, the television and the telegraph.
As anyone who has used the Internet for any length of time knows, the initial rush of excitement about getting connected soon wears off. Perhaps there are a few unfortunate souls out there who spend too much time online, but Young's attempts to demonstrate the imminence of an epidemic of Internet addicts seem spurious at best. A far more worrying prospect is that people who have never used the Internet before might be scared off from discovering its benefits if they read Dr. Young's book.