Craig Johnson talks to Trash DJ pioneer Erol Alkan, feted by Face magazine as the new Fat Boy Slim
Anarchic, eclectic and unique are some of the words used to describe dee-jay Erol Alkan, who's been injecting his imagination and energies into his renowned club night Trash since January 1997. Having transferred the night from the Annexe club to The End in 2000, the night Trash is held every Monday night and is only six quid to party till the early Tuesday hour of 3am. The night has hosted classic live performances from the likes of Yeah Yeah Yeah's, Bloc Party, Mylo and also seminal sets from the likes of Felix Da Housecat, 2 Many DJs and Tiga over the past five years.
Erol along with Trash colleagues Rory, Mavs and James for their part have played an influential role in making club nights interesting again by offering party-people a chance to listen to their expansive music policy and see classic new bands before they hit mainstream. If it's an underground rock&roll tune that was made in 1959 he'll play it. Same applies for all other types of music. Soul, techno, kitsch, punk and electro. He plays it if he thinks it'll lift the roof; or if the party wants it, the party will get. No musical fields left unsown for Mr Alkan and friends. Can't get to Trash on a Monday? Then keep an eye out in view of Erol also being resident dee-jay for Bugged Out and quite frequently plays events in North West England. So if you fancy some mashed-up music fun and the chance to hear classic tunes of schools old and new then check this guy out.
I managed to chat with Erol about his dee-jay life, his night Trash, his tastes and the moment he was offered a Bugged Out residency on the spot. Here are the highlights of our conversation.
Why call it Trash?
Erol: Any anwser I could give to that would be equally profound as disposable. There's no real awnser why. It was either Trash or Hard As Nails. You become your name and it becomes you. (Is Trash a brand?) Absolutely not – I've tried my hardest to not make it a brand. Although some people have an ideal as to what Trash is.
How long you been djing and what did you first play music wise?
Erol: 15 years now. I have a tape of my 1st DJ session I mixed together at my friends house. Lisa Lisa & the Cult Jam with LFO. PWEI with Renegade Soundwave. The Charlatans with some acid record, really badly. It was 1990, I was hooked on Fantasy FM for a year.
What other dee-jays you been into?
Erol: I have a soft spot for turn tablists. Mix Master Mike, dj Kraze. Those guys who are purely entertainers. I wish i could do what they did. I never will though. I also rate anyone who gets up and plays music they love in some cohesive order, thats all there is to it, i think. It's always gonna be entertainment and/or playing other peoples records. It's also about whose taste you like as well. . . it goes a long way.
Is every set you play different or do you ever replicate sets?
Erol: I try and keep it as interesting for myself as possible. keep enjoying it myslef, and never to palm the public off with mediocrity
Any new bands on the horizon that you like?
Erol: Ummm. my mind is blank. I'll think of some. There are loads at the moment. The Blood Arm, Cazals. All the bands playing the club I suppose.
You ever heard of an old rocker called Link Wray?
Erol: Of course. 'Dueces Wild' is a fave. I used to play it at Trash a few years back. I'm currently inflicting the regulars to Lard at the moment.
Are you planning any more remixes?
Erol: I am actually halfway through two. Although I shouldn't say what they are as I'm not sure if I will be able to finish them on time, but I would love to do five more this year. Five really good ones.
Any big offers from commercial bands?
Erol: Had a few big offers, but I wouldnt discriminate against anyone's art or music. You sometimes feel its in vain so you pass.
So if Phil Collins asked?
Erol: If Phil asked and the song was great, then why ever not. It could be good.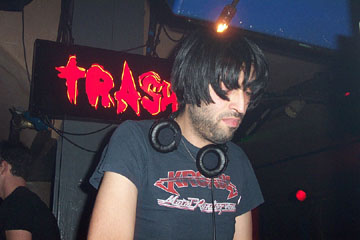 What was your first gig you seen?
Erol: First gig. . . I can't actually remember. I spent a few years in my late teens relentlessly drunk. I cant remember much from then.
Where you from then?
Erol: London, Archway.
Tell me about your internet radio station. How often is that broadcast? Erol: Oooh. Every 2 months or so, doing a new one tomorrow. have you heard the Trash mix on the site? There's a link on the board.
What's the difference between Bugged Out and Trash set-list.
Erol: Trash is rock n roll, Bugged is dance. But both have to be full of personality.
How did you get involved in Bugged Out?
Erol: I met Johnno from Bugged Out one night in some club, and got talking. Maybe 2000? He was aware I had dabbled with the bootlegs as such and was curious. We got talking more, and we talked about Trash and stuff. I then told him i was a big fan of electronic music. One night I ended up drunk at his house and just djed for what seemed like days, fast forward a few months and David Holmes has to pull out of his 19th Hole slot at Fabric and I get asked to fill in. It goes well. Halfway through I get offered his residency and that was pretty much it.
Are you planning or have you ever created music from scratch?
Erol: I have done but under a different name and im not telling! It's a secret – innit.
What your impression of the Manchester vibe?
Erol: I love it – sincerely.
Is it in anyway different to the London atmosphere?
Erol: Yeah, very. It's warmer than London for sure. But no better or worse.
What's with the Smirnoff event in Manchester?
Erol: Well I dont usually go for corporate things but I drink a lot of Smirnoff and it's a free gig. And they do put together half decent line ups. I just turned down a massive money deal with a major tobacco firm.
What sorta set you gonna play for that?
Erol: I'll do whatever I think the party needs. But as you know, I wouldn't go there to tour Trash. I don't take it anywhere. If I brought Trash, I would have to bring the people too cos thats what it's about.
Do you choose all the artwork for Trash. Flyers etc?
Erol: Yeah, I tend to do it all myself, hence to poor quality! Or authentic – as I like to call it
Any festival plans this year?
Erol: Glastonbury hopefully. That was the best one last year in the UK. It was great last year!
Do you ever get mashed when playing? Erol: I drink like a fish always have done and rarely dj sober. I dont do drugs to be honest.
So if your requirements in music stretch into eclectic terrains of mashed-up fun and good times that break boundaries, then check Mr Alkan and friends. See the Trash Club website for his movements and superb downloadable sets from Erol and other creative dee-jay luminaries. Otherwise keep an eye on Bugged-Out and festival sets that are due in the summer months. Respect the Alkan.