Chris Mitchell
The efforts of unsigned bands are something I usually prefer to pass over in silence. There's a simple reason why many bands remain unsigned: because they're bloody awful. Or, perhaps more accurately, so hopelessly mediocre as to provoke nothing but indifference. I subscribe to the theory of sonic Darwinism – those who are any good will eventually run into the glories, litigation and rehab of a major label contract if they want it. On the strength of this self-released debut EP, 8mm are going to need a pack of Rottweilers to keep off the men in suits waving big chequebooks.
From the arresting photograph on the cover alone, a black and white shot that looks like a camera crash between Fellini and Pulp Fiction, 8mm possess a certain dark charisma, a promise of mystery, sex and intrigue. Someone has evidently thought about the packaging here, crafting a brooding, uncertain atmosphere before you hear the first note. That atmosphere pervades perfectly into the title track, which itself acts as a declaration of intent. Lead singer Juliette Beavan may be uncommonly photogenic and indeed half-undressed in that cover shot but 8mm's songs aren't songs of sassy feminine self-celebration, but of sexual yearning, unfulfilled lust and loneliness. Much more fun. Portishead fans are going to wet themselves.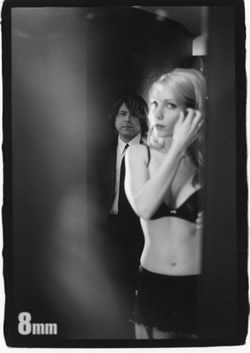 There's a certain understated accomplishment to each of this EP's tracks. Sonically, there's nothing radical here; they all follow a similar trajectory, a smokey guitar and drum sparseness with subtle strings, leaving plenty of deserved room for Juliette's aching vocals. Not only do 8mm ensure her words are clearly audible, they print them on the sleeve too – which in itself is a laudable statement that this is a band interested in both the writing and the riffs. And indeed, there is a smattering of quietly searing riffs running through this EP, but the one word that continually comes to mind is "restrained"; restrained as in waiting to explode.
All of Opener's six tracks have a fabulous tension running through them that never boils over into outright meltdown. Given that the other half of 8mm, quite literally, is Sean Beavan, this is quite surprising – his production work with Nine Inch Nails and Marilyn Manson would indicate he's not averse to inflicting nosebleeds on his listeners. By reining in such tendencies, 8mm have packed all the more power into these six tracks – the closing "Give It Up" moves towards semi-epic territory with a spiralling guitar line that sounds vaguely reminiscent of Mezzanine-era Massive Attack but otherwise it's essentially all down to showcasing Juliette's voice. The one stumbling point here is the rap on "Nothing Left To Lose" which sounds simply too pedestrian to sit well against the other tracks.
It's clear that the Beavans' previous form is precisely why this debut is so self-assured. Opener provides a perfect introduction – long enough to show 8mm aren't a one trick phoney, short enough to keep the listener intrigued and wanting to buy the debut album proper. This masterful EP gives every indication 8mm are poised to do something quite brilliant. Watch them.
8mm's debut EP Opener is only available from their website www.8mmaudio.com. All six tracks can also be streamed for free.