Chris Wiegand
It's hard not to fall in love with Nanette Hayes, the self-effacing heroine of Rhode Island Red, Coq Au Vin and Drumsticks – a trio of musical mysteries from African-American author Charlotte Carter. A sassy, streetwise, sax-playing busker, Nanette is funky, jazzy and soulful. She's also no stranger to the Blues. Carter's novels have her stumbling alternately through the streets of both New York and Paris to the tune of Miles Davis, Duke Ellington, Lady Day and Art Blakey, as she falls in and out of love and is forced to play the unwilling PI, struggling to solve the murders and mysteries that continually complicate her life.
Rhode Island Red is a fast-paced, riddle-based comedy noir that sees Nan introduce herself to the reader as "more or less a Grace Jones lookalike in terms of coloring and body type (she has the better waist, I win for tits)". At the start of the novel, our charismatic narrator is typically down on her luck. It's four o'clock on a wet September afternoon and she has played sax all day with only "twenty-one bucks in the hat" to show for it. To make things worse, a scrawny stranger shows up to tell her that she can't play for shit.
What makes things a lot, lot worse, is that the same stranger winds up lying dead on Nan's apartment floor before the night is out. Then it turns out he's an undercover cop who has stuffed 60,000 dollars into her saxophone.
The ensuing action sees Nan, in an attempt to answer the riddle of the lyric 'Rhode Island Red', dealing with a dangerous cast including on-off boyfriend Walter, officious police officer Leman Sweet and a peculiar Russian stranger who is obsessed with Charlie Parker. Help comes from her beautiful best friend Aubrey, a go-go dancer with a voice "like warm apple butter". Hindrance comes from her overworked conscience, who she names Ernestine.
Fast-paced, humorous and overtly musically minded, Rhode Island Red sees Carter following in the rich tradition of great African-American authors like James Baldwin, whose novels Go Tell It On The Mountain and Another Country reverberate with blues spirit and gospel resilience, and Ralph Ellison, whose masterly 1952 novel Invisible Man is filled with jazzy riffs.
Like Baldwin and a number of other African-American writers who found a second spiritual home in France, Carter and her heroine have a passion for Paris. Baldwin explored his love for the city in his moving second novel, a homosexual odyssey entitled Giovanni's Room. Carter likewise sets her second thriller in the French capital, having already set up Nan's love for Paris in Rhode Island Red. (Nan has a French degree, translates the work of Rimbaud, and tells her mum she is teaching French part time at NYU, rather than have her worry about her financial situation.)
Coq Au Vin opens in New York but soon crosses continents as Nan is forced to leave town to search for her missing aunt. Typically, within minutes of arriving in the capital she has fallen for a muso and become involved in another mysterious murder. This time, the riddle surrounds a Blues singer named Little Rube Haskins.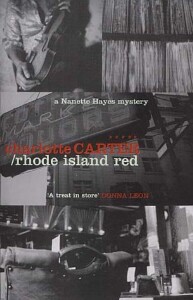 Drumsticks, Carter's third and latest Hayes installment, has Nan back playing her sax on the streets of New York. More than a little worse for wear from her Parisian adventures, she admits to having spent too much time in the company of her "best friends, Mr. Gin and Ms. Tonic". The musical mystery this time moves from bebop to hip hop, focusing on the death of a young rap star. Nan is drawn into a typically tangled plot through what at first seems like an innocuous gift – a mojo doll she is given by a bouncer at Aubrey's club. (The go-go dancer is one of several characters to re-appear from Rhode Island Red.) The handiwork of a neighbourhood folk artist, the doll drags Nan into muddy waters, and as ever those closest to her seem caught up in the case.
Carter's work particularly impresses because it not only recalls a host of Afro-American mystery writers (Walter Mosley springs to mind) but also echoes the screen tales of noirish directors like Otto Preminger, whose movies The Man With The Golden Arm and Anatomy Of A Murder both came complete with hot jazz soundtracks. Growing up a "bookish, neurotic, paranoid, unhappy kid", the author admits that "bebop and film noir saved my life" and cites a host of classic crime movies when recalling early influences. She singles out The Big Heat, an American noir from Fritz Lang, Out Of The Past, a re-discovered '40s B-movie directed by Jacques 'Cat People' Tourneur, and The Blue Dahlia, written by Raymond Chandler and starring Veronica Lake.
Like Lang, Preminger and Tourneur, Carter is a master scene setter, whether that scene be downtown New York or boho Paris. Her convincing characterization, careful pacing and catchy dialogue mean that her novels would also work well on the big screen. Unlike those directors, she has a frequent lightness of touch, an impossibly romantic spirit, incredible sensory awareness (her descriptions of food, sex and music rise from the page) and abundant comic ability (unlike a host of noir heroines, Nan never takes herself too seriously).
Carter's novels may well be hard-boiled, but thanks to Nan they come with a very soft, very sweet, centre.