Nathan Cain
The works of William Seward Burroughs have always, even among those who think themselves the hippest of the hip, been considered a bit much. Without a doubt, Ginsberg and Kerouac have been the most popular authors of the Beat movement, but the fact remains that Kerouac's reputation is based on one work of literature and that Ginsberg, despite a promising start, veered off into insipid, preachy poetry in his later days. One hundred years from now the Kerouac and Ginsberg will be cultural footnotes, at best. The undisputed genius of the "Beat Generation" will be William Seward Burroughs.
While the so called "Beat Generation" prided themselves on producing literature of a transgressive nature, Howl and On the Road are hardly shocking to anyone over fifteen years of age. The same cannot be said of Naked Lunch. Burroughs' masterpiece, and the cut-up trilogy which served as his follow up are still as appalling and prophetic today as they were when they were written.
His notion of a world full of image addicts has taken on new relevance in a world where people flip through four-hundred television channels or surf from web site to web site looking for their next fix, and his concept of a Nova Conspiracy facilitated by taking statements made by two opposing factions and then judiciously editing them so that the disagreeing parties only hear the most inflammatory remarks of their rivals is a deadly accurate description of our modern mediascape, which is ruled by sound bites and bickering pundits.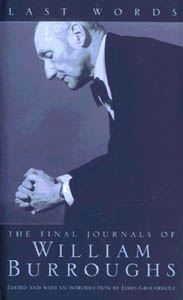 At his peak Burroughs was a prophet with an imagination as off kilter as any of his counterparts in the Old Testament, but in his later days the manic energy and anger that fueled his best works faded and he produced books like The Cat Inside and My Education: A Book of Dreams.
Last Words: The Final Journals of William S. Burroughs is an incredibly sad collection of the writings that Burroughs made in the nine months before his death in August of 1997. One would expect Burroughs's last words to be a apocalyptic rant in the style of his own fictional templates such as the last words of Hassan I Sabbah from Nova Express or The Last Words of Dutch Schultz. This is not the case, however.
Last Words veers between Burroughs' attempts to come up with new routines dealing with his old preoccupations such as drugs, paranoia, extra terrestrials and control, and his more poignant musings on his beloved felines, mortality, and his past mistakes. Surprisingly, it is his more conventional musings that make for the interesting reading, revealing a contemplative, almost sentimental side to the infamous literary outlaw.
Burroughs' attempts at routines are, even he acknowledges, as "lifeless and flat as old mud spattered snow," and it is when he writes about the death of Allen Ginsberg, Timothy Leary, or one of his pet cats (especially his cats) that he shows the reader that he still possesses the passion that gave birth to his notorious routines, but that he is, in his own words, "just emerging from a stormy adolescence" and one is inclined, not to lament the decline of a great writer, but to celebrate the belated birth of a complete man.