Lewis Owens meets composer Arvo Pärt
A few months ago, I contacted the composer Arvo Pärt through his publisher in Vienna. I informed Mr Pärt that I was interested in writing a book on his life and music. After reading my proposal, Mr Pärt suggested that we met to discuss things further. The first meeting took place on Wednesday March 29 at the Royal Academy of Music, where there was a three day festival in honour of his music. The second meeting was at his house in Essex, which was followed by a visit to the nearby Stavropegic Monastery of St. John the Baptist.
Arvo Pärt was born in Paide, south-east of Tallinn, Estonia, on 11 September 1935. He entered the Tallinn Conservatory in the autumn of 1957 and was later a winner of the "All-Union Survey of the Creative Work of Young Composers" held in Moscow for composers throughout the USSR under the age of 35. Although his musical ability was clearly evident, its religious content led to various confrontations with the Soviet authorities (his work Credo was banned for over decade) and he applied to leave the Soviet Union (and hence relinquish Soviet citizenship) in 1979 with his Jewish wife, Nora. On January 18, 1980 they left Tallinn for Vienna where they acquired Austrian citizenship. They now live primarily in Berlin.
Pärt's minimalist music is rapidly increasing in popularity, and his attempt to re-establish the sacred roots of music has a growing appeal. Yet it seems to me that without understanding or appreciating the reasons or 'philosophy' (in a non-academic sense) behind his often repetitive tonal compositions, Pärt's music may seem rather banal and somewhat unimaginative. Therefore, my interest was primarily to understand in greater depth the 'philosophy' that drives his music.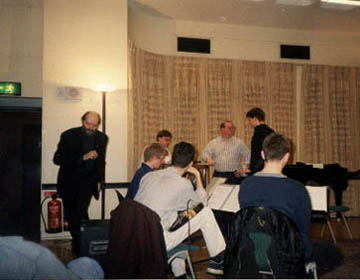 Pärt in rehearsal
Eschewing in large part the conflicting tension of opposing forces that constitutes the dynamics of change found in, for example, the later symphonies of Tchaikovsky, Pärt's harmonies suggest an understanding and experience of 'time' that is non-linear and non-teleological (that is, it appears to reach no climax or 'goal'); moreover, as it lies outside a linear, teleological paradigm, it is immune from accusations of stasis.
Indeed, Pärt's work has an underlying dynamic and organic unity, which seems to require an intuitive mode of perception to be experienced fully. This includes an experience and perception of silence that, much like the apophatic mystical tradition of the Eastern Orthodox Church that Pärt embraces, seeks to overcome chaotic multiplicity and establish contact with a true and authentic unifying essence. Pärt has coined the word 'tintinnabulation' to describes this style of his work which dates from the early seventies:
Tintinnabulation is the area I sometimes wander into when I am searching for answers – in my life, in my music, in my work…the complex and many-faceted only confuses me and I must search for unity…everything that is unimportant falls away. Tintinnabulation is like this. Here I am alone with silence. I have discovered that it is enough when a single note is beautifully played. This note, or a silent beat, or a moment of silence comfort me.
Before our first meeting at the Royal Academy of Music, I attended a rehearsal of Pärt's Miserere, during which the composer crept stealthily from every corner of the room, from instrument to instrument, bass to soprano, listening, suggesting and often wincing when the instruments and vocals did not harmonise "like Romeo and Juliet." My work is like a puzzle or a mosaic, he claimed, if one piece is lost or out of place, then the whole work cannot function properly: "the machine cannot turn back" once it has begun.
After the rehearsal I was able to spend some time with Arvo and Nora Pärt. Pärt himself is as 'present' as his music; his deep, dark Slavonic eyes pierce you as sharply as any of his religious works. We discussed my intentions to write about the 'philosophy' behind his music. "'Philosophy'? He has none", his wife cut in sharply in broken English, "he learns everything from the old Church Fathers." To really understand his music, she continued, you must first understand how this religious tradition (Eastern Orthodoxy) flows through him. Her husband agreed: I was therefore invited to spend a day with the Pärt's at the Stavropegic Monastery of St. John the Baptist, Tolleshunt Knights, Essex the following week.
Mr Pärt met me from the station, and we spoke of my work on Nikos Kazantzakis (whom Pärt clearly disliked for being too 'unorthodox') whilst we drove to his house in Essex. For the first couple of hours we discussed my proposed book, eating strawberries and drinking tea whilst being watched closely by the numerous severe-looking icons that decorate his sitting-room.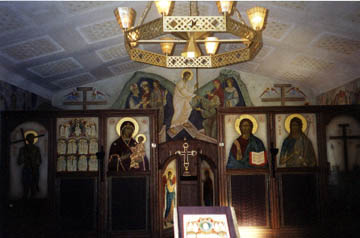 One of the churches at the Stavropegic Monastery
of St. John the Baptist
Despite the obvious language barrier (I do not speak Estonian; Mr Pärt's English is commendable but limited), it was also apparent that there were further barriers to overcome if my project was to be given the green light. We talked philosophy, theology and music, but Mr Pärt was visibly uncomfortable and nervous. Any book about him, he claimed, must begin with the substance of music itself – the arrangement of the notes. It is from this musical epicentre that everything else must radiate. "If anybody wishes to understand me", he continued, "they must listen to my music; if anybody wishes to know my 'philosophy' then they can read any of the Church Fathers; if anybody wishes to know about my life, then there are things that I wish to keep closed…unlike our friend John [Tavener]!" It was clear that my proposed project was running into difficulties before he suggested that we headed for the monastery.
The Stavropegic Monastery of St. John the Baptist is home to around 25 monks and nuns. It was established under the spiritual guidance of Archimandrite Sophrony, who died in 1993. Sophrony had arrived on Mount Athos in 1925 and entered the Russian Monastery of St. Panteimon where he began scribbling down the teachings of his elder St. Siluoan. Many of his works are to be found in the monastery bookshop. The monastery itself is a mixture of richly ornate old timber buildings that blend beautifully with newer, more modern constructions. The monks and nuns spend their day in prayer, icon-painting, and in the general upkeep of the monastery. A large section of land enables them to grow various fruits and vegetables, and thus remain largely self-sufficient.
When showing me around the monastery, Pärt's demeanour visibly changed. He came to life again, like he was during the rehearsal of Miserere, prowling cat-like from one icon to the next as he explained to me their origin and symbolism. He was clearly relieved to have left the 'intellectual' atmosphere that we had created earlier, and to breath instead a more 'spiritual' and aesthetic air. I was even treated to a duet by Pärt and his wife in one of the Churches.
At 5.00 p.m. the bells called all the monks and nuns to eat (as it was Lent, this was their only meal of the day). After a monkish chant that seemed to be taken straight from one of Pärt's works, we ate our simple meal of olives and pulses in silence, listening to a reading from the teaching of Johannes Climacus. Humbleness prevailed. Soon afterwards Arvo and Nora Pärt presented me with a gift: Archimandrite Sophrony's spiritual biography of "Saint Siluoan the Athonite." We talked no more of my own proposed book; it just didn't seem appropriate in the surroundings.
As I left the monastery and made my way slowly home, I recalled Pärt's words and decided to put my book project on hold for the time being: "If anybody wishes to understand me, they must listen to my music; if anybody wishes to know my 'philosophy', then they can read any of the Church Fathers; if anybody wishes to know about my private life, there are things that I wish to keep closed."