Thierry Brunet calls on Swiss sonic pioneers The Young Gods to elaborate on their new album Second Nature
André Breton used to describe Max Ernst paintings as "a collage of originally heterogeneous elements which, put together, form another reality ; enigmatic, gifted with a strength of persuasion rigorously proportional to the violence of the initial shock it has produced." The music of The Young Gods matches this definition, even if with Second Nature it will be, once again, difficult to pin them down.
Lucidogen > Supersonic opens up as a double deflagration. Dervish-like pieces that could quickly send a listener into a trance. Franz Treichler's generous voice and Bernard Trontin's drum rhythms withstand daily inertia. Laisser couler (le son) sees rich sonorities open on to exuberant spaces with variable geometry. Attends sets in a striking atmosphere, creating one of the greatest moments in the album.
The digital experiments of Alain Monod impress with their hypnotic precision. The Young Gods make sound rhyme with sap, playing with paradoxes. Always forcing emotion on machines, a turmoil under a volcanic crust. Rainbows and reptiles at the same time, the compositions rub against each other like kakemonos in a stormy wind. Toi du monde puts a spell on drum'n'bass with grace and carries away the listener on a trip into unconsciousness.
Second Nature seems more assured than The Young Gods' previous albums – the ideas swarm and the sound is amplified by Franz's resourceful production. The Young Gods open a fascinating trail, always changing, without ever losing their identity. It's an exacting work and the research for new sonorities never leaves out the visceral energy that emanates from the band.
Dreamy atmospheres… Music for confines which is only a pulse at the beginning, a beat to identify, then turns into something warm, unique, alive. Just like a heart….a human heart.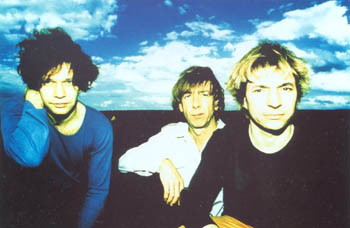 Young Gods interview:
After the celestial expanses in Only Heaven, what is the dominant feature of Second Nature ?
Franz Treichler: Generally speaking, Second Nature has more electronic based sounds than what we produced in the past. Some numbers are pure Gods like Lucidogen, Supersonic or The sound in your eyes… whereas others step more into abstract atmospheres (Stick around, Attends…).
What about the new titles…
F. T: Lucidogen is the name of a fictitious drug which would make people more clairvoyant instead of making them sleep like most actual drugs or, at least, most of the drugs used in our Occidental society. The idea came to my mind as I was reading a book in which the anthropologist Labat was making a comparison between the use of hallucinogens in the so called primitive societies and in ours: in primitive societies people take drugs when they have to face a specific problem (a poor hunt, a new chef to elect…). They gather, take hallucinogens to ask answers or advice from the spirits which move in what they call reality.
In our society, the use of drugs is essentially linked to an escape from reality and not to a research on knowledge or wisdom. That's all the difference. In 1998 I happened to be in the anti O M C riot (World Trading Organisation) in Geneva, when suddenly it degenerated into violence and police repression. In the middle of this urban chaos I remembered Labat and said to myself : "If only there could exist a lucidogen gas instead of a lachrymose one, all these people would realise immediately how absurd the situation is…"
Supersonic is dedicated to a friend who sinks into depression without giving any news of himself .When do we have to intervene ? Laisser couler (le son) is a misty reflection on human nature. Astronomic : a reminder of the incommensurability that surrounds us. Attends is a tender love declaration to a desired person who is moving away…
In the otherland : deals with the belief in the existence of unknown worlds nearer than we think. Stick around is more political and tries to make you realise daily responsibilities from the most trivial to the most important of our acts, in a world where lack of responsiblity brings about a passive and unhealthy acceptation of the situation.
The sound in your eyes is about the fascination you feel when looking into the eyes of the loved one. Toi du monde, an indirect tribute to the Dalaï Lama and all the people in exile, by means of a hypnotic house ballad. To finish with Love 2.7, humorous acceptance of the same recurrent questions in the implication of a relationship in a couple. All that of course is approximate and up to the listener's interpretation…
How do you compose ?
F. T. We start working individually: we each do drafts of pieces and a sound research separately, then we meet to put our works together and jam on loops or other sounds. Bernard tries new rhythms, Alain plays the sounds he's developed and I test vocal ideas behind the mic.
How did you tackle your research on sounds for this album ?
Alain Monod (keyboards, programming): First, I record concrete daily sounds that I find interesting (a pressure cooker, footsteps on the ice…). Franz deals with synthetic sounds. We both have synths programs linked to computer and mix them. The idea was to collect a new bank of sounds using other methods than sampling.
How do you approach rhythms in a mainly electronic group ?
Bernard Trontin (drums): Precision is very important to be able to play with the machines and not be after or before it. It's particularly true on stage, where I'd feel embarrassed to have to use headphones. The visual connection with Alain is very important: he acts more like a guitarist than a sound engineer. His tempo is heard, but it can be seen too !
On a creative level most of the rhythmics come from jams in which everyone can express himself. We don't limit ourselves to our roles of instrumentists, but we work on all levels, except on texts which are exclusively Franz's.
I have sometimes been told that it was difficult to differentiate what I was playing from what was coming from the machines, it doesn't make sense for me. The musical result is the only thing that matters. I think that the confusion will grow more important in the future…
What are your goals as a producer ?
F.T. When I produce other bands, I first try to understand them, make sure that they feel well in the new environment that the studio represents, so that they can be at the best of their possibilities.
I'm not extremely interested in making them sound like Young Gods…If that doesn't come naturally, I try to understand where the group wants to go, and induce them to decide for themselves on the different choices I may propose on the way. I will of course tend to a sound which is specific to me, but I won't make a group different from what it basically is.
Producing my own band is something totally different. It is a sort of prolonging of creative work or even composition. The idea for Second Nature was to go to the end of my ideas without using a producer or an external ear.
You treat sounds the way a sculptor does. What is your relation to this matter ?
F.T. It's quite an abstract relation. Sounds tell themselves what is good or what isn't. It's a very instinctive process. It may be not only an approach similar to architecture, but pretty close to paintings and colours.
In the studio, what are you using ?
F.T. Macintosh (Pro Tools, Cubase…). Akai S-3200, Nord Lead, Korg MS-20, Gretsh drums.
3 words to define your music.
F.T. Rock / electronic / psychedelic
Your lyrics often remind me writers like Lautréamont, Georges Bataille or Michaux…
F.T. I rarely write for other opportunities than music… Sounds suggest me words…The tones call pictures that change into lyrics. Once I get a leitmotiv for a song, I develop…
What motivated the Heaven Deconstruction project ?
F.T. The outtakes from Only Heaven – To show a new side of The Young Gods nobody would have thought about.
On the thanks list of TV Sky, we find Marilyn Monroe and La Muerte…
F. T. Marilyn Monroe is thanked as a muse and La Muerte ( a Belgian band unfortunately now disbanded) because they shared a number of shows with us during that time.
Are movement, drift and travel key points ?
F.T. . To move and travel, yes, definitely but not specially drift. If human beings don't move, they regress or sink…
What are you listening to at the moment?
F.T. Amon Tobin, Steward Walker, Ghost Dog (original soundtrack), Super Collider, Doctor L, Mr Bungle…
Your reading these days…
F.T. Jeremy Narby ; James Upfield…
You are Swiss, so you can't avoid this last and crucial one – chocolate… Black or with milk ?
F.T. Ah. Definitively black !