Patrick McGuigan talks with Nick Hornby about the changing roles of men and women in his new novel
How To Be Good
Men stumble through life bewildered by relationships, terrified of responsibility and unable to articulate their feelings; or so you would think from the characters portrayed in Nick Hornby's novels. Women are only used to make the men look worse. His new book, How To Be Good, deliberately sets out to challenge this stereotype. Hornby's arrival at such a position has been a direct result of the success of his first three books, Fever Pitch, High Fidelity and About A Boy.
Hornby writes from a small flat two minutes from his beloved Highbury. It is equipped with a kitchen, bathroom and lounge, where framed posters of his books hang proudly on the walls. He obviously spends a lot of time here. Hornby is divorced and lives with his seven-year-old son in a house near to his office flat. He is friendly, assured, and smokes continually. He looks tired and his patchy baldness gives him a disconcerting, ravaged look.
Born in 1957, he graduated from Cambridge with a 2.2 in English Literature. He then worked as a teacher and a journalist before publishing Fever Pitch in 1992. It was an honest account of how his obsession with Arsenal usually took precedence over his emotional life. His next two books, High Fidelity and About A Boy, explored similar ideas of how men struggle to come to terms with modern expectations of sensitivity and maturity. They are funny, touching and his male characters ring true.
It is surprising for an author so concerned with masculinity that he hasn't written much about fatherhood. All his main characters are, as he puts it: "childless, feckless males," who don't have strong paternal ties. About A Boy addressed the issue of fatherhood in a metaphorical way but he has never dealt with it directly.
Part of the reason for this is that his son, Danny, is autistic. "My experience of fatherhood is going to take a long while to filter through to what I write. Being the father of a disabled child you have a lot to say, but it's so unique you want to do it in a way that people understand."
His own father left the family home for another woman when Hornby was a young boy. He then moved abroad for ten years. Hornby says he has not really thought about what effect his father has had on his writing, but adds: "I had an absent father. Fathers haven't played a big role in my books yet; maybe there's a void where a father should be. " He laughs nervously, then moves the conversation on to how the media encroaches on topics formerly only tackled by writers.
Hornby has said that he is tired of men being portrayed as morons by the media and wants to "redress the balance." He argues: "The first two books couldn't have been written twenty five years ago. Men writing about how they feel would not have been tolerated."
He goes on to say that with the advent of feminism and changes in the workplace men and women have become more equal. "I don't know any man who can't change a nappy or cook." When asked about women earning 20 per cent less than men he quickly points out that his books only cover domestic life and there is a long way to go. "Obviously society is still incredibly sexist. It's difficult when you write about gender to talk about men and yet be sympathetic to feminism."
Hornby's books are unbalanced because they only concentrate on men. Life is confusing for everyone, women included. He agrees: "The flaws in High Fidelity and Fever Pitch are that the women aren't rounded characters. The whole process of writing books and reading women's letters about them has made me completely rethink. I've now decided that the men/women stuff is a red herring."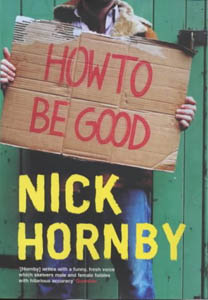 He elaborates on his new position on gender: "There are two extremes – England hooligans with skinheads and women who are subservient to their husbands. Then there's the middle where most of us are now. People of a certain generation don't feel incredibly different to their partners."
When asked if it is simplistic to say we are all the same, he concedes that "differences do come from our experiences of being brought up a man or a woman." He also acknowledges that men can find it hard to express themselves. " I'd rather not communicate whereas the women I know would prefer to talk."
This is an important change in direction for Nick Hornby, the beginnings of which can be seen in About A Boy. As well as touching on fatherhood it has a female character that tries to kill herself in a bout of depression. This is not a positive depiction of women but certainly more complex than in his proceeding books.
His new novel, How To Be Good, is the first time Hornby's main character is female. He explains: "It's about a woman whose husband has a spiritual conversion that drives her nuts." This could be a risky step for a writer so linked in the minds of the public with men and football.
He claims he has not found it particularly difficult to write: "I wasn't sitting there thinking 'Oh my God, what would a woman say in this situation!' " He has also given it to female friends and taken out parts they did not think were appropriate.
Hornby's books work because his male characters are so familiar. They have an authenticity that readers immediately relate to. If he can do the same in his next novel with a female character, it will be a major achievement. As he says: "If I'm going to progress as a writer I've got to stop worrying about gender and treat people as people, characters as characters."