Budge Burgess
Interest in Roman history is an ironic perennial, blossoming with each Hollywood blockbuster – Quo Vadis, Ben Hur, Gladiator. Romans appreciated the mass appeal of the spectacle, now available on celluloid with reassurance that no animal was harmed in its making.
Nevertheless, few could name a single Roman – Pontius Pilate was, Spartacus wasn't – except the odd Emperor. Julius Caesar lives on through Shakespeare; Claudius was celebrated by Robert Graves and BBC. And then, there's Nero: he fiddled while Rome burned, and persecuted the early Christians. Or did he?
Richard Holland challenges the preconceptions which cloud our understanding of Nero and his world by exposing the myths and misinformation. He presents a man with powers of life and death over the 'civilized' world, a product of his era. History is an exercise in understanding, not an excuse for moralising.
Holland embraces the psychological and sociological subtext, demonstrating, lucidly, the problems facing a student of ancient history. Evidence is partial and scanty: archaeology is serendipity, the few written records notoriously biased.
Any biographer aiming at a critical history – rather than simple chronology – has to develop forensic skills in interpreting evidence. Depending on its quantity and quality, the biographer is launched into speculation and surmise, and can fall prey to subjective illusions. Objectivity is the first casualty. Biography of an ancient figure can dissolve into pseudo-fiction.
Holland's strength is his ability to combine balance and objectivity with an almost fictional quality – Nero: The Man Behind the Myth is a real page-turner, in places as fast paced as a detective novel. Holland explains, clarifies, and interprets, without patronising.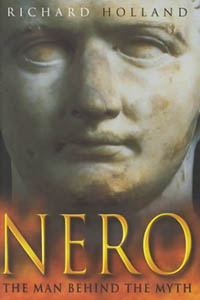 He deconstructs the morality of Roman politics. Its Empire stretched from Spain to Egypt, and was ruthlessly centralised. All power flowed from the city and to a handful of rich families, following the conduits of military roads and conquest.
This was a society founded on extreme violence – a superbly organised Army and rigorously disorganised slavery (Rome's nightmare scenario was of slave revolt). The labour-saving device of the era, a third of Rome's population had no more rights than a washing machine. Living was conspicuously expensive, life was cheap.
Holland captures this alien morality. Nero is born to a career of murder – he disposes of his wife, mother, and any who cause inconvenience – yet can be altruistic. He is popular amongst the labouring classes. He frees talented slaves and promotes them to positions of authority. He favours ability over breeding. His downfall, inevitably, is due to his failure to pander to the aristocracy.
Nero did not fiddle while Rome burned – he organised fire fighting, food aid, and emergency housing. He is lenient and conciliatory after Boudicca's revolt in Britannia. His persecution of early Christians is questionable. Evidence, argues Holland, is largely based on later records, written by Christian propagandists or political opponents.
Holland portrays Nero's mother, Agrippina, as an overbearing, manipulative woman who refuses to let go of her son. Nero, meanwhile, is a pampered adolescent, reluctant to grow up. He wants independence, wants to be himself. Not for him the grey political life; he insists on writing, singing, playing. His heart is in the arts.
Yet, if there is a weakness in Holland's account, it lies in his analysis of Nero the artist. Here is a young man absorbed in the 'pop' scene of his day. He inhabits two cultures, the imperial and the artistic. Holland's biography is a convincing piece of historical analysis. He offers a credible picture of a young man ultimately disinterested in the mundane world of politics and court life.
But exploration of Nero's other culture, of his passion for the arts, is another challenge. Explaining this lifestyle can only be speculative and subjective: the political history might be pinned to known evidence, but convincing characterisation of the artist demands too much licence to sit entirely happily within the history.
Nevertheless, this is a first class book. If parts seem unsatisfactory, it's because the reader is left hungry. A good biography should leave room for doubt, should leave the reader keen to learn more and delve further. Nero: The Man Behind the Myth does just that. It is to be commended.