Budge Burgess
The story of Mary Shelley and her invention, Frankenstein, is one of the great romantic tales of literature. At 16, she ran off with the poet, Shelley. At 18, she was challenged to write a chilling story during a famously Gothic storm. Her creation was to be absorbed into the English language as one of the most enduring images of the 19th century.
Miranda Seymour resurrects Mary Shelley's life as assiduously as Frankenstein assembled his monster. What emerges are two tales: a forensic dissection of Mary's experiences and influences, unpicking that supreme creative moment; and the biography of a lost childhood, exploited youth, and premature middle age. The question remains, did Mary ever achieve the animation of her creature or find a less artificial life?
Famously the daughter of two of the 18th century's most radical philosophers – William Godwin and Mary Wollstonecraft – Mary appeared destined for a politically-active life. However, her mother died as a result of the birth, her father spent the rest of his life evading debtors while trying to keep up appearances.
Godwin remained 'comfortable' – he never suffered the poverty of the working classes. Family life, especially after his remarriage, seems to have been less that glittering. Godwin lingered within the literary and political diaspora, but Mary is left an emotionally distanced child, a lonely 16 year old searching for excitement and adventure. Shelley appeared as a dazzling comet, sweeping her off her feet.
Yet the Shelley we meet is a spoiled brat – a hyper-privileged aristocrat who can afford to be irresponsibly self-centred. He carries off Mary and her stepsister, readily abandoning his pregnant, 18 year old wife. Mary is soon with child. She loses it. Becomes pregnant again, and again, and again.
Mary may have seen the affair with Shelley as a liberating statement of self-determination – she clearly had greater maturity than her future husband. Yet she is ultimately left dependent… on Shelley, then on his family and estate. She hardly emerges as a feminist icon.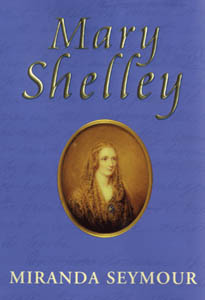 The contrasts are striking. Frankenstein has a fascinating provenance. Miranda Seymour searches for evidence of its conception – from a meeting with Coleridge and reading of his Ancient Mariner, to time in the whaling port of Dundee, and the impact of a family friend active in medical research and electrical experimentation. Mary's parents were giants; she has one, great moment of inspiration – without it she would have remained a mere footnote.
Mary settles for matronly, middle class convention and the life of a threadbare gentlewoman. Perhaps the threat of poverty was too much. Perhaps the true monster was her life of dull, material reality, falling premature victim to the narcotic of convention and conformity. Perhaps the expectations of her parentage and literary offspring were too great.
Seymour presents Mary as a unique talent and exemplar of the 19th century, middle class woman – unfulfilled, fixed in place by roles which constrain but never extend. Having transgressed the social norms – rejecting paternal authority, an openly extramarital affair, mother of a bastard child, and, most damning, marriage into the aristocracy by a lower class woman – Mary can never be allowed to fit back in, no matter how much contrition she might show. She is doomed to sidelined ordinariness.
This is a twin biography – of the stellar creation and of the mundane woman. Had Mary been placed in cold storage in 1820, to be defrosted by the glare of 20th century media attention, she may have been allowed to grow into a person in her own right. In practice she remained in the shadows of her creature, her husband, and her parents. She is trapped in the role of 'little woman', a tarnished chrysalis whose butterfly had escaped to take on a life of its own. The real gothic horror story is her life.
Miranda Seymour pieces together her research expertly, producing a solid piece of scholarship which will absorb both the literary student and the lay reader. Densely written, this is a finely drafted portrait of a rare moment of genius and of a woman of her time.