David B. Livingstone
For some strange reason, the story of Christ – and the stories of messiahs in general – remain a source of irresistable fascination to a certain breed of author, seemingly inviting compulsive retelling and reinterpretation, despite both the difficulty of the subject matter and almost-certain censure by the devout (see Salman Rushdie). In Quarantine, author Jim Crace focuses upon forty days Christ spent in self-imposed exile in the desert, allowing himself to be tempted by the devil as a test of his faith. Given that the portrait that emerges is somewhat less than flattering, one wonders what devils Crace is tempting.
Into the unforgiving heat of the barren, rocky desert stride five pilgrims – a cancer-stricken merchant, an infertile woman, an illiterate goatherd, a Holy Man wannabe, and the youthful Jesus, each in search of an enlightenment, a purification, and a healing that evidently only masochistic self-deprivation is able to provide. There they encounter the gravely ill and malignantly-evil Musa, Quarantine's most carefully-drawn character and the story's prime mover, and his downtrodden, embittered wife, Miri – a chance meeting that will warp and debase the very nature of their retreat, and ultimately ensure its failure. Christ disappears alone into the remote reaches of a cave to spend forty days of deprivation and hallucination while the others become ensnared in Musa's exploitative web – and become obsessed with the mythic figure of the absent Jesus.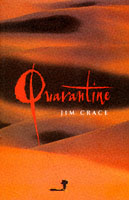 Jim Crace's Christ is a strange one, indeed, begging the question as to whether or not it's possible for a Messiah to have a Messiah Complex. While remaining convinced of his "chosen" status, he waits around for miracles to happen rather than performing them, displays his love for humankind by hiding, and responds to overtures from his fellow travelers with hostility and suspicion – hardly becoming behavior for The Lord. The reasoning behind such behavior is open to question; Christ, as described in the book jacket blurb, is made "thin and watery by the rising mirage heat" of the unforgiving desert, but the author's tentative demarcation of the perameters of his Christ as a man, as a healer, as the ostensible son of God extends this ephemerality to the detriment of the story being told. Ultimately, we learn more about the blisters on his feet and the parching of his tongue than we do about the contents of his soul.
A strong Christ figure would have nicely balanced the immense presence of the unappealing Musa, allowing for a clearer juxtaposition between the "good" and "evil" – and the miscellany of variants between the two extremes – which, one is led to believe, are intended propelling forces behind the narrative; instead, Christ is relegated to the role of a distant and largely passive spectator, interacting and intervening in the events swirling around him only sporadically and unintentionally while Crace repeatedly turns his attention to the vile Musa and the minor subversions against his dominion propagated by Miri and Marta – an unlikely first-century Thelma and Louise. Divinity is perceived only through its absence.
In the end, Quarantine is a rather strange, occasionally beautiful, book. Crace has descriptive talents other authors would kill for, evoking an alien time and place in stark, sensual realism, while seamlessly interweaving multiple layers of rich symbolism. Crace is obsessively careful in his attention to details: No word, no sentence, no passage is misplaced as he carefully reconstructs his imagined ancient Judea, as he describes the sufferings of his pilgrims, as he molds the evil of Musa's soul into its full, horrifying form. For all of that, the big picture remains nebulous: Who's this Christ guy, really, and what does he want? Schizoid, or son of God? Quarantine isn't telling. For all of its magnificent language, its captivating renderings of time and place, and several genuinely stirring passages, there aren't any answers – but there are some very strange questions.