Chris Mitchell
This is one book you can judge by the cover. It shows a home snapped portrait of Cookie Mueller laughing, her head thrown back and her hand out against the wall for support. Ask Dr Mueller is three hundred pages of that laughter, gathered together from over 25 years worth of her writing about a life that was wild, weird but, so it would seem, frequently wonderful. Cookie is best known for her appearances alongside Divine in the films of maverick director John Waters. However, as Waters writes in his introduction, she had many sides: "a writer, a mother, an outlaw, a fashion designer, a go-go dancer, a witch-doctor, an art-hag and above all, a goddess." Forever on the move, Cookie's writings show her restless enthusiasm for everything from art criticism to travelling to being an agony aunt.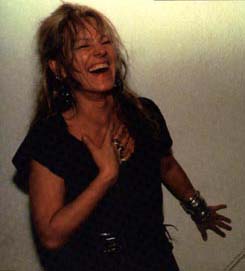 Throughout her life, she stumbled into the most bizarre situations; everything from burning down a friend's house by accident, being abducted on Highway 31 and fucking chickens for the sake of art. (If that doesn't make you want to read the book, nothing will). Yet while she certainly led what most would consider a hellraising lifestyle, there's no self-obsessed myth making in Cookie's writings. She discusses taking truckloads of drugs in 1960s Haight-Ashbury with the same humourous detachment that she catalogues a day of domestic disasters. The overwhelming impression is that Cookie lived life to the full and everything within it interested her. Most of all, she could equally convey those mad and mundane moments' importance on the page, turning the deeply personal from mere autobiography into a kind of art. If a writer's job is to look at what we all take for granted and bring back something of its magic, then Cookie deserved a huge payrise.
Her death from AIDS in 1989, seven weeks after her husband died of the same cause, brought an abrupt halt to the stream of stories, reflections, advice and ideas collected here. Most books which feature collections of writers' published and unpublished work are usually just picking over the dead bones of what's left, like the posthumous Bruce Chatwin industry. Ask Dr Mueller, however, goes in the opposite direction – it brings together between two covers a hilarious and fascinating collage of one woman's journey through life.
This book is perhaps in danger of being passed over because it can't really be categorised, which makes it unmarketable; moreover, Cookie's fame is limited to devotees of relatively obscure films and the American underground. But this relative anonymity is exactly the book's major strength. A reader can never be quite sure what will happen next within Cookie's writings – it's one of those glorious collections that reflects the unpredictability and everyday insanity of life. It doesn't matter whether you know who Cookie Mueller is; by the time you've finished this book, you'll wish she was still around.