Jayne Margetts
Canongate's Rebel Inc imprint has become the torchbearer for the Dysfunctional Generation. If grim reality, catharsis and profane verse is your poison then chances are they can prescribe a literary hotchpotch of cutting-edge contemporary writers to suit your taste buds.
Feeling pessimistic or down-right suicidal then look no further than the critically lauded Scar Culture by Scottish-born author, Toni Davidson. He is a maverick who nudges the reader into the lair of the forbidden. A pied piper of the written word who hurls you headfirst into the phobic cauldron of modern day ills such as child abuse, sexual sadism and debauched psychotherapy. He tackles these themes with the ferocity of a homicidal scorpion stinging tender, virgin flesh.
Shock value is rare these days, but Davidson handles this waning commodity with aplomb and style. This is not to say that this is his only intention, in fact, there is such a wealth of raw talent gushing from every pore that it is quite frightening to predict the effect he will have on contemporary chemical fiction.
Davidson edited Scotland's first collection of lesbian and gay writing, And Thus I Will Freely Sing, as well as Intoxication: An Anthology of Stimulant-Based Writing. These in no way can begin to prepare the reader for the journey into Scar Culture's heart of darkness.
The clinical nature of the book cover gives little away. A white backdrop with the title embossed in red ink. Simple and aesthetic. But what is contained within its compact, A5 sized torso is as disturbing, erotic and unashamedly gluttonous as a diseased blood cell on rampage through a healthy eco immune system.
Take for example the names of the three central characters; Click, Fright and Sad. When first introduced to each of these dysfunctional human beings they appear divorced from their surroundings, but as the story takes shape it's easy to see why their own silent insanities are preferable to the most horrendous of realities.
Click, the offspring of parents he christens "Exit (Mother) and Panic (Father)" begins his tale as a six-year-old, armed with a "battered camera" through which he views his own experiences. A cramped caravan filled with rage, violence, sex, abuse and a stolen childhood is a setting in which an infants' worst nightmares are realised.
The second character, Fright is at the mercy of his murderous father. "A good day to die on, son, is that what you want?" is his frequent mantra as he physically, mentally, emotionally and sexually batters his two sons into oblivion. Fright's brother Jake deflects the majority of blows, and this in itself, leads Fright onto the precipice of his own tormented madness.
The predatory Sad is the glue that pastes the fabric together. Unlike the preceding victims, Sad is the violator. Not content to imprison his sister in his own sycophantic and incestuous sexual practices he views humanity as a guinea pig upon which to experiment. For Sad is the Psychotherapist who will take unorthodox practices to their absolute limit.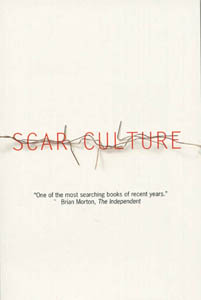 Sad painstakingly applies the Ten Rules Of Psychotherapy and lays out an audacious plan in which to treat both Click and Fright. But what he does not foresee is the destruction of his own mental fragility and ultimately the consequences of his own brutal actions.
Click and Fright inspire empathy. Their experiences could easily flash through a series of images on the evening news. We've all heard them before and unfortunately the heinous nature of mankind's ability to sink into the sickest of crimes will only quadruple as society in itself breaks down. But what is most shocking about these case studies (if you want it in clinical terminology) is the victims silence and desperation. Davidson captures this beautifully.
It's difficult to write this review without mentioning that Davidson did not need to look too far and wide for research material. He only had to look at what has, and continues, to happen around him. Strangely though, he doesn't exploit the fictional victims as you may expect, preferring to the put the boot in where he sees fit: into the heart of psychotherapy gone tragically AWOL.
Scar Culture is not an easily digestible book. It's uncomfortable and purposely harrowing. But there's something addictive about it. Whether its Davidson's use of language or in that it takes you to a place rarely visited – with no holds barred, it's impossible to say.
This modern day fable is the epitome of raw. It takes a leaf out of the two books it is most closely compared to – One Flew Over The Cuckoos Nest and The Dice Man and in similar fashion opts for hacking the flesh out of festering social sores minus anathestic.
Toni Davidson has one hell of a future ahead of him. He's bold, confrontational and bombastic. He sucks the reader into his own twisted vortex, chews us up and spits us out. I for one am happy to push him into the demigod status, and tell him to go forth and multiply until his dysfunctional heart is content.