Stephen Mitchelmore on the music of Will Oldham
Who is Will Oldham? Well, maybe he'd like to know first of all. As if in search of the proper one, he's released LPs under several different names. Made famous by the Palace name (Palace Brothers, Palace Songs, Palace Music), he then reverted to plain Will Oldham for one record, and now he's Bonnie 'Prince' Billy. He dismisses any deep meaning behind this fluidity of brand name, but such unwillingness to explain is a symptom of the same thing. It's an unwillingness to secure a ground and remain. Even so, we can be secure in saying he is without doubt the best writer in music today. Not only a remarkable songwriter – the Sunday Times says 'Bob Dylan and Leonard Cohen already suffer by comparison' – but also a remarkable writer full stop. He's 29, from Louisville, Kentucky, and his latest LP is called I See A Darkness.
Seeing a darkness? Seeing needs light, so there's something odd about the title. On the surface it appeals to Goth self-dramatising; one can imagine Nick Cave giving a record that title. Yet the implications of this inherent contradiction seep in. Listening increases uncertainty. There's the song 'Death to Everyone' that's either uplifting or upsetting. I can't decide.
"every terrible thing
is a relief
even months on end
buried in grief
are easy light times
which have to end
with the coming
of your death friend. (chorus) death to everyone
is gonna come
and it make hosing
much more fun la la la
la la la"
It's both. The pained irony in the drawled chorus is absent in the verse. I first heard Will Oldham on the BBC's John Peel show singing the equally ambiguous refrain: 'When you have no-one, no-one can hurt you', from Days in the Wake (1994). At first I heard it as a self-pitying lament for a lost love – which is pleasantly indulgent, but no more than that. Then I heard it as an implicit condemnation of someone protecting a solitude so pain can't get in. And finally I heard it as someone completely alone who is hurt by the very fact of 'no-one'. Songwriting, in my experience, is rarely this disconcerting. And it's not a one-off. The next song on the LP has the repetition, building to a minor crescendo: 'God is the answer … God is the answer … God is the answer!' All of which projects outward: there's the answer, out there, look, follow me. But is soon followed by the softly sung line 'God lies within.' Not, as one might expect, the assertion of faith or the bathos of condescension, but the deepening of the question. Where within? Usually in popular music such ambiguity is an issue only until it can be set aside. (Perhaps music is ambiguity set aside). George Steiner claims that music actually defines us as human. He expresses wonder at the profound reverie even the most banal of tunes can set in motion. We 'pass beyond ourselves' he says, and we become aware of 'unfathomable depths'. This seems familiar enough, and intellectual resistence would certainly prevent this. Music demands an extra degree of trust to let go and be open to the sounds. Yet I would say our resistance to music is just as important and cannot be dispensed with. It too defines us as human. Criticism, let us say reflection, is as inevitable as breathing. Actually, Steiner says as much; music also 'takes us home in an unexplained déjà vu'. I would explain all this by saying the experience of reverie is really its imminence making itself felt, rather than actually occurring. In effect, we are experiencing the nostalgia for an impossible experience. Our continued desire for music is a result of unrequitable hope. Our humanity rests in acknowledging this. Go on, work that one out.
Steiner also says that a world without music would be 'fundamentally non-human', which makes one wonder about the humanity of the deaf. For the living, however, silence and what comes with it is inseparable from the experience of music. This tends to move against the will. The part of us that wants music would rather disappear into the ecstatic oblivion of another life, palpable in the musical experience; I know my part does. Indeed, music tends to be judged according to depth of oblivion it reaches – on the dancefloor, in the car, the bedsit, the head. So when the song hinders this disappearance, we resist and say we 'don't like' the music. Nowadays, we are encouraged to condemn the artist for being cerebral, solipsistic and indulgent if oblivion isn't forthcoming. The irony, of course, is that our resistance is a result of our unique freedom: our individuality. By celebrating this ignorance popular culture is a moronic inferno of denial and aggression – nothing to do with democracy or empowerment.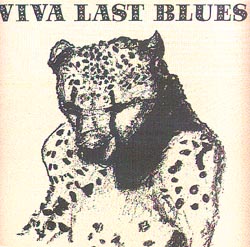 The unique thing about Will Oldham's songs is that they emerge from this very paradox. Remaining inside it explains why his work has got better rather than descended into attempts at false completion:
"This is what makes a thing last
Want to make what didn't happen go"
('The Brute Choir')
The music itself is difficult to describe. I don't know much about these things, and I could fall back on phrases others have used – 'post-country blues' and 'melancountry' being two of the best. But none of them work really. As for the lyrics, many reviewers, tied by word limits, sum it up as 'Americana mixed with Old Testament language'. Again, this seems accurate, but why would this mixture appeal to a Eurocentric Englishman who says that to believe in nothing is already to believe in too much? Me, for instance.
I think it's not the allusive quality of the language that's important but the way it fails. For example, when Nick Cave 'hails the Pentecostal morn', it alludes to the given depth and weight of the Western tradition, which is incidentally why his Goth fans are so unwittingly conservative. Cave's elegantly crafted songs cling to the horror of God's tragic justice, clothed in cosy Victorian melodrama. Goths like to think it's deeply cultured, and in assuming so appear like Boyzone fans pointing to the violins playing in the background on Top of the Pops saying "Look Mum, it's classical music!" We all know it's only a distraction not an engagement; only a weekend relief from good jobs and babies dressed in black.
However, when Oldham sings songs like 'Arise, therefore' from the LP of the same name, the gloriously clunky Maya Tone drum-machine infects it with anachronism. Consumers previously happy to enjoy the wittily named sub-genre 'melancountry' saw this as 'deconstructing' the tradition. Even Oldham's Sunday Times admirer called this breath-taking LP a woeful mistake. Clearly, they didn't like his wrenching of the form. Instead, this actually makes Arise Therefore Oldham's landmark achievement. Within it, the cosmic is infected with the mundane, and vice versa. Or something like that. Perhaps it creates a genre all its own: Blucolic?
One must hesitate to analyse the lyrics, for the moment the sheet is read, the grammatical nonsenses and apparent meaninglessness confound the listening experience. Despite this, I still want to. The opening track 'Stablemate', which was also the opening song of his set on the recent European tour, is a scene-setting distillation of dustbowl starkness:
"how could one ever think anything's permanent
how can you sleep when I'm going away
I haven't a reason left in my head
to not go away"
A heavy bass underscores the brooding quality of the song, and it's no coincidence that the LP was produced by Steve Albini, ex of Big Black. The words have a power because they're both rhetorical and immediate; the lack of a question mark above makes that clear.
The fourth track is perhaps the most remarkable. It has the never-to-be-forgotten title 'You have cum in the your hair and your dick is hanging out'. Indeed. The excessiveness of the title is in clear contrast to the song's extreme desolateness. On first listen, it is a delicate broken-hearted love song (it reminds me of Philip Larkin's late poem 'Love Again'). The drum-machine adds a beat every three seconds, confirming the atmosphere. Here's it is in full (and the words haven't been mis-typed either):
"Head start on the frog
on the deer and the dog
the things we true were taught
loyal torn from our hearts;
it's now so soft underfoot
we sleep more than we sleep
if god could make me cry
I'd run along the water
she won't come; I'll be gone
she won't come; I'll be gone
play with it while you have hands
a desperate lack of demands
I can't offer a thing
better than dying, so take it!
scrap the outfit
and hand me the keys to your car
if I leave before it is light
I'll be around when you are
she won't come; I'll be gone
she won't come; I'll be gone"
It is perhaps bad form to wonder for too long about what it all means. Like all songs, a lot has to do with how it's sung and against what music. But what is clear is the presence of the stillness of midnight; as if you're listening to the desperate words of a troubled, not to say sticky insomniac. This leads many admirers to talk about Oldham's empathetic imagination. One writes "you're not just listening to words and a guitar, you're experiencing [his] honest feelings." Yet 'honesty' doesn't seem right. It's not 'this is the real me' honesty of the cringeworthy 'confessional' singer-songwriter.
The words from 'You have cum …' maybe deeply felt but they are also impersonal. There are three 'we's before a 'me' appears. Is this the tyrannical darkness of the collective unconscious pressing on the existential loneliness of the one with cum in his hair? Probably. Cum is, after all, where the male is exposed to evolutionary time. It's where the animal emerges, subject to special history. Despite this, we know we have 'a headstart on the frog'. Our head gives us a start. The song's desolateness, therefore, is not about the sufferings of an individual as himself, so much as his difficulty in being at all. The 'I' of the song is only a possibility set against harsh reality. Will Oldham's 'honesty' then is the clarity of his exile. The various names he adopts is a natural off-shoot of this.
In this respect, it's appropriate that Oldham first became well-known by acting in films, most notably co-starring in John Sayles' trade union drama Matewan (1987). His performance as a teenager caught up in the brutal repression of a mining union in 1930s America is startlingly good. Yet no matter how connected his songs and his acting are, the displacement of identity central to the actor's existence is perhaps too limited. In my experience, actors are less interested in others as being others full stop. They tend to be indiscriminate, mercenary and heartless. The self is willingly exiled. It is not the most appropriate medium for an artist concerned with the play of self and its exposures, ellipses and effacements. While Oldham is certainly stagy, it's a stage with the trapdoor fully in view.
In a rare interview, Oldham is clear that the movement between the self and its productions plays a major part in his writing. Asked if there is anything he does consciously when writing songs he says
"Doing and not doing. But it's not that hard cause that's mostly the nature of what's going on, or that's the reason for these things to be there. That is the answer to what makes them occur. The answer is that they are that way. The reason that they become is because they become what they are. The listening is begun at the very beginning, at the writing, then it's continued in the performing and recording, and then is continued with whoever listens to it but it isn't completed … it's something that's never completed."
'Doing and not doing': this is basically what it is to be a human animal. We hold against the 'not doing' because it leads to boredom and melancholy. We half envy the animal who just lives; who just does. But it's still us as not-doing individuals that desires it. One of the great analysts of modern human nature, Friedrich Nietzsche spoke of this in 1874:
"Consider the herd grazing before you. These animals do not know what yesterday and today are but leap about, eat, rest, digest and leap again: and so from morning to night and from day to day, only briefly concerned with their pleasure and displeasure, enthralled by the moment and for that reason neither melancholy nor bored. It is hard for a man to see this, for he is proud of being human and not an animal and yet regards its happiness with envy because he wants nothing other than to live like the animal, neither bored nor in pain, yet wants it in vain because he does not want it like the animal. Man may well ask the animal: why do you not speak of me of your happiness but only look at me? The animal does want to answer and say: because I always immediately forget what I wanted to say – but then it already forgot this answer and remained silent: so that man could only wonder. But he also wondered about himself, that he cannot learn to forget but always remains attached to the past: however far and fast he runs, the chain runs with him." (translated by Peter Preuss)
It's a neat coincidence that the opening verses of the great song 'The Brute Choir' presents a similar situation:
"Cow-call, and they were all calling together
describing the way to go
I never hurt someone so young
and I never held someone so sweet
Makes me want to holler with them
All the way down
All the way down
their voices show the way
how to hold it back
see the end of the day
shut their mouths, shut their mouths
and rip the pictures down
withdraw, withdraw, you live so far from town"
Confirming the tension, two of Will Oldham's LPs feature cover designs of animals on the way to being human, or the other way round: a compelling portrait of a broad-shouldered leopard on Viva Last Blues (1995), from which the above song is taken, and a goat performing on its hindlegs on Joya (1997). On a sublime recent EP, the subject is even more explicit.
'One with the Birds' is a love song sort-of, to birds I guess ('Juan with the birds' he joked at his Water Rats Theatre gig in London). The song seems to be again about human infatuation with animal freedom. Oldham fits in as many bird names as possible:
"a purple martin in my house,
she hollers at me.
why be inhuman, why be like me?
like so many robins, like so many doves,
like so many lovebirds, with so many loves,
like the songs of the bobwhite
without any words
when we are inhuman, we're one with the birds."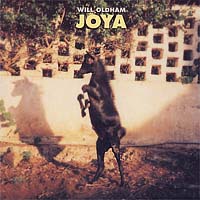 (An anorak's aside: I wonder if with this song Oldham is paying a discreet homage to Dick Gaughen's song 'Now Westlin Winds' – a setting of a poem by Robert Burns? On Joya, there's a song based on another of Gaughen's from the same LP, his 1981 masterpiece A Handful of Earth. Burns' poem is equally resourceful in mentioning the birds of Scotland: the moorcock, the plover and the linnet among others. It's also a love song of sorts. Who knows: influence tends to be unconscious. He's already acknowledged the tune's similarity with Gram Parson's 'Hickory Wind'.)
'One with the birds' is a song that wouldn't offend an easy listening audience. Again, however, there's the real oddness of the refrain: "When we are inhuman, we're one with the birds". One can sing along merrily without wondering what it all might mean. Though singing along merrily is, in a way, flying away. In other words, the listener cannot demand an exclusion of a cerebral response without compromising his or her humanity. So, without force, the listener is presented with a paradox that never quite lets you forget where you are and what you're doing, even if it at the same time seduces in every musical sense. As our culture ignores what is left over from such failed transcendence, we are prompted to feel individual consciousness is a problem to be solved. I don't think it needs to be. In fact, it is likely that this failure to fly away is precisely what gives us the richness of life. Along with Will Oldham's music.