Antony Johnston
Neil Gaiman once told a group of schoolchildren, "When I was your age, people told me not to make things up. Now I get paid to do it." And at first glance Stardust seems to be a book for just that audience. A compilation of what was originally a four-issue series, this is a bona fide fairy tale complete with unicorns, evil witches, damsels in distress and a young boy's quest to gain the hand of his True Love. Even the format is reminiscent of children's books, being a hardbound large storybook with illustrations rather than Gaiman's usual fare of straight-up graphic novel.
But those expecting a normal fairy — sorry, "Fairie" — tale will be surprised.
Stardust is the story of young Tristran Thorn. Tristran lives in the small village of Wall, situated on the border of Fairie. Once every nine years the two worlds meet to hold a market, and Tristran is the result of a union between Man and Fairie which took place at one of these markets. But he knows nothing of this, instead believing himself merely "different", in the manner of all young men.
And continuing in the manner of all young, foolishly romantic men, Tristran has made an impossible promise to a young girl named Victoria Forester, in return for her hand in marriage — to fetch a star which they saw fall in the Fairie lands.
So begins the story of Tristran's adventures "Beyond the Wall", as he quests to retrieve the fallen star and keep her (naturally the star is female) from others who also seek her for a variety of nefarious purposes.
At its most basic, Stardust is a good read. Gaiman is a past master of conversational prose and one can easily imagine this story being told by a kindly uncle at bedtime or a travelling bard around the hearth. Fans will certainly not be disappointed as Gaiman weaves thread after thread into the tale, showing his usual disregard for central characters and ability to surprise and delight readers.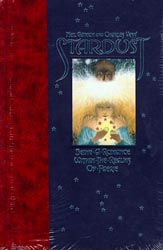 But where Stardust succeeds most is in the curious mix of childlike wonder and mature content, again something Gaiman has a unique talent for (and best shown previously in Neverwhere). The telling of Stardust is very traditional and verbose, in the style of Britain's nostalgic fictional Victoriana. But Gaiman also draws on the darker side of traditional fairy tales — the kind in which people die, swear, and have sex. In going "back to the source" for many of his elements (the descriptions of witches spells especially) Gaiman has forged a tale which is never offensive, but easily capable of shocking those expecting a bedtime read for their children. Though probably not the children themselves.
Charles Vess' illustration for the book is both atmospheric and well-rendered. In a book such as this the art should enhance rather than compete with the story, and here Vess succeeds admirably. Whilst Stardust would read perfectly well without the illustrations, there is no doubt it would be a poorer overall experience. Stardust is perhaps not innovative, but this is why it flows so well.
Gaiman has clearly enjoyed not having to worry about trying to impress his audience, and the result is a book which is eminently readable for the simple reason that is a very good story. It is essential reading for anyone, not just Gaiman fans, with a taste for an enjoyable, well-told tale with more than a hint of myth and magic.