Robert Knafo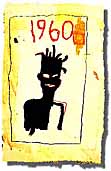 In his short life (1960-1988), Jean-Michel Basquiat came to personify the art scene of the 80s, with its merging of youth culture, money, hype, excess, and self-destruction. And then there was the work, which the public image tended to overshadow: paintings and drawings that conjured up marginal urban black culture and black history, as well as the artist's own conflicted sense of identity.
He was, all at once it seemed, the ultimate party animal, a wannabe streetkid and grafittist hiding his black Brooklyn middle class roots, an advocate and interpreter of the marginal and dispossessed at the court of the mainstream, an angry black aspirant to the all-white art canon, a precocious talent, a creature of cynical marketing and a fraud, a proto-muIticulturalist, an American original.
As I came across the abundant contradictions, the public perceptions, mythifications and self-inventions that went into the shaping of Basquiat's life and work, the more I wanted to understand how these had all attached to the same person. I set out to create my own picture of Basquiat.
I began research on a book on Basquiat in late 1991, which included interviews with dozens of people who knew him and worked with him. What was initially meant to be a biography turned, in part out of frustration with the strictures of biographical writing, into a work of fiction.
The excerpt is from midway into the book, around early 1985, when Basquiat has become close to his idol Andy Warhol, and media interest in him as a symbol and symptom of a booming art market is at an all-time high.
Robert Knafo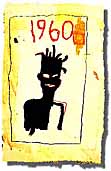 It's going to be a cover story," the writer said, addressing Andy and then Jean. Jean, Andy and the writer on assignment for the New York Times magazine, a young woman named Maureen McBain, were settling into their seats at the restaurant table, Jean looking pleased and proud.
"So tell me what it was like to be Samo," she asked him.
"It was great," he said, looking deeply at the writer. Attractive, he mused. He had other reasons to want to charm her though. It would not only be a cover story about the art scene, she had explained to him over the phone, but about him, really, in a kind of profile within the piece.
It was a cover story about him, he had explained to Andy when he'd invited him along to lunch. Jean smiled a little shyly. "Of course I was, like, starving, and I'm making a lot of money now, but it was still cool then. There was something real in it." Not like now, was the implication that hung over the moment of silence. The writer barely crooked an eyebrow. She wouldn't pursue it, not right now. Andy looked on, rather wistfully.
The writer and Jean were thick in a volley of mutually appraising looks. Andy harrumphed, and looked ostentatously at the menu. The writer remembered that she was with Andy Warhol, gave the aging art star a moment of vague if respectful attention, then trained her sights back on the young phenom in off the street, the auction record-breaker, the black hope, the emblem and symptom, the natural hook.
"Well, tell me more about your work at the time."
"You know, it was like writing on the street; doing my tags, mostly on the D line, because that went from Brooklyn to the Village, and, well, just all over downtown. " Jean brushed a dangling rasta apollo braid that had been falling into his line of sight away from his brow. He's flirting, well that's a good sign, she imagined.
"Like what? For example?" the writer said.
"Okay, huh: 'SAMO, copyright, AS AN ALTERNATIVE TO JOE NORMAL AND THE BOURGOISIE FANTASY.' Like that." She wrote as he spoke.
"What else?" She asked. "One that you remember especially?"
Jean smiled. "JIMMY BEST ON HIS BACK TO THE SUCKER PUNCH OF CHILDHOOD FILES," he said.
"And you lived on the street at that time?"
"Are you kidding? For years; on park benches, in Washington square; on steam grates, whatever." The journalist scribbled into her notebook as Jean spoke. "I did whatever it took. I stole food from grocery stores. I hustled."
"Really?" Andy asked.
"Yeah. Guys sucking me off for twenty bucks."
"You're getting the real dirt," Andy said to the writer.
"I don't think the Times is going to let me use that," she said.
Jean shrugged as if to say, just telling it like it was.
"So why did you stop? Samo, I mean."
"Because I had enough of being known as Samo. There were other things I was doing, that were just as interesting, if not more interesting."
"I met Jean when he was doing T-shirts and postcards," Andy contributed.
"That was like three years ago," Jean said, in confirmation. "But I was painting then, too." He looked at Andy as if to press home the point. "We're doing a studio visit after lunch," he said with a sly purse of the lips, to his infinitely more famous friend. The writer from the Times looked up from her notebook at Andy with the trace of an apologetic smile, then went back to writing in her jagged, diligent shorthand.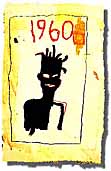 Jean and Maureen stood before a painting of a man in a wheelchair. She had asked him where his ideas came from, and he'd told her the story, spying the man on the street as he yelled at a boy to be put in the sun, his Cajun accent, giving him money, the old man's crazy gratitude. She inspected the image before her and wrote in her notebook: chair like a throne/ old man almost a god/head primitive mask/frightening defiant. Now she said: "Help me to understand–how do you actually make a painting? The process."
Music played in the background, a gong, a flute, a line of synthetic keening, pausing, proceeding, an enigmatic composition, which, if not attentively listened to, could easily fade in the background, receding to some subliminal aurality. "I paint to music," he said to her, and raised his eyes into the air, as if to catch the passage that hung now betwen them, a loosely strung necklace of meditative, mysterious chords. "I catch…a rhythm and I let it go in there," he gestured toward the picture of the old man. The writer took notes; leveled another look at an early work that he had brought out for her, a painting bearing several furiously scribbled skull-headed figures, with a background teeming with local tempests of brushstrokes and wordings. "Your work has changed so much," she said, with a glance at him that looked for comment or affirmation.
"I think I'm more economical now," he said, after his own gaze at the familiar skull heads. "Every line means something. And there are things I know now, things that have become important to me. I'm interested in painting the black person. He's the protagonist in most of my paintings."
"Tell me about that."
"I realized I never saw any paintings with black people in them."
Maureen noticed the book lying on the table, titled "Flash of the Spirit."
"You're reading that?" she said.
"Yeah," Jean said. "How the African beliefs came to America, the Carribean. It's a great book."
"Your work shows a lot of African sources. The masks," she said.
"Recently, yeah. Not early on," Jean said. "Early on I was more interested in Picasso, Twombly, DuBuffet."
"And what about your contemporaries, Schnabel, Haring, Salle, Clemente, Fischl," she asked. "Who are the ones you admire or like most?"
"Oh please," he said, with a derisive smirk. "I'll take a little kid's work over any of that any day."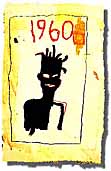 Over the debris of breakfast the phone rang. It was Andy, and he was furious at Jurgen. Jean had never heard Andy raise his voice so loud.
Jurgen's show of Andy's, Jean's and Francesco's collaborations had opened in Switzerland. "He said they were curiosities!" Andy yelled into the phone. "You remember? No one would be interested. An experiment for all concerned?"
"Yes, so what happened?"
"He's selling those paintings for forty and sixty thousand dollars apiece!"
Jean's jaw dropped. "He paid me thirty for everything!" Jean finally bawled out. "Aw, man, he's gonna be giving some of that fuckin money back!"
"I should ask him for more."
"Fuckin right you should! He's got fifteen of our paintings!"
"He must be giving Francesco more than us. I can't see Francesco doing it for so little."
"He told me he said he was getting the same."
"Yeah, but I mean, what else would he say? Those Europeans stick together."
"Let's talk to Tony about showing with him," Jean said.
"Okay," Andy said. They were referring to their duo collaborations, the ones without Francesco. "I mean, we can talk to him. Although you know what he did, right?"
"What?" Jean asked.
"Well, uh, he's the guy who slashed Guernica in the early Seventies. As a kind of performance piece, I guess."
"He's an art dealer," Jean said, impatiently confused.
"He used to be a conceptual artist," Andy said. "So that was his work, slashing Guernica with a knife."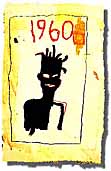 Andy was in the office, musing about getting together with Jean. This is it, the great new chapter in your career you and everybody else has been wondering about. The new reason to care about his art, the reason to feel as if he could escape the suspicion and fear of being played out. He was delighted with the work they did together, he couldn't wait to pick up a brush, to make more. He called Jean at the Ritz-Carlton, in the early afternoon, when he could reasonably count on finding him emerging from bed. He suggested a painting session, which was fine with Jean but not today; today he was taking his mother out to lunch. It was her birthday, and Jean was having a lunch for her, at Mr. Chow. And shit, it was getting late, he was gonna be late. But if Andy wanted to come, he was welcome, and his mom would get a big kick out of meeting the famous man.
At the lunch Jean had slouched back into his chair, withdrawn to observer status, watching laconically the small tableau at the table, the scene of his quiet, sporadically distant mother in the tacit stewardship of her nurse-companion, and Jean's two younger sisters, hovering quietly over sorbets. Jean said he was going outside, for a smoke.
"She seems to be enjoying herself," Andy said to Jean in a low voice. He caught the regret in Jean's eyes.
"She's spent half of her life going in and out of mental hospitals," Jean said to Andy, who'd followed him out.
"She looks like a nice, regular mom, though," Andy said.
Jean humphed in disdain. "She wasn't a regular mom. She was somebody that had to be taken care of."
"What is wrong with her?"
"He drove her crazy," Jean mumbled.
"Who drove her crazy?" Andy said.
"Nothin'," Jean said. "Just, one day, she wasn't home anymore."
Andy looked at Jean. "Well," he said. "I know that isn't the way she would have wanted it."
"Yeah…" He glanced down 57th street, looking for his father to appear.
"You know, mothers are just built a certain way."
"Yeah…" He dragged bluntly on the last of his cigarette, then tossed it away.
Andy looked at him, silently. This kid…Just once I want to hear you say, you know Andy, that's so true…
"Where the fuck is he," Jean said aloud, to himself.
"We really should go back in. It's not polite," Andy said.