Gary Marshall on the history of gangsta rap as documented in Tupac Shakur: Rebel For The Hell Of It and Have Gun Will Travel: The Spectacular Rise
and Violent Fall of Death Row Records
Under the guidance of its founder Marion "Suge" Knight, Death Row Records became one of the most successful and most talked-about record labels of the 1990s. Home to Dr. Dre, Tupac Shakur, Snoop Doggy Dogg and many others, the label's roster read like a "who's who" of the rap industry and the "gangsta" genre in particular. Straddling the line between entertainment and violent reality, the label developed a reputation for gangsterism and intimidation while its artists seemed to lead the same violent and misogynistic lives they rapped about.
Armond White attempts to tell the story of Tupac Shakur, Death Row's most famous recording artist, and place him firmly in the context of Black culture and society. The son of former Black Panther and crack addict Afeni Shakur, Tupac attended drama school and was a gifted musician and actor; his death in a drive-by and the resulting tit-for-tat killing of Biggie Smalls (AKA Notorious B.I.G.) were generally believed to be part of the escalating rivalry between East Coast and West Coast gangs. "Rebel For The Hell Of It" attempts to explain the cultural issues that shaped Tupac and his generation, presenting a damning picture of corrupt police, institutionalised racism and the greed of the recording industry.
While White presents a powerful and convincing argument, at times he's too eager to play the race card. A journalist who describes Tupac as "shockingly handsome" is denounced as racist on the evidence of those two words, and White regularly uses magazine cuttings as examples of what he perceives as a subconsciously racist approach to the entire Rap industry. While there is some truth to his arguments, in many cases he heaps derision on journalists who may be guilty of cliché or lazy thinking but who demonstrate considerably more affection for his subject than he does. While detailing rape allegations, court proceedings and lyrical content he seems curiously distant from the subject, showing little sign that he finds anything to like or respect about Tupac. It is only when the narrative turns to Tupac's filmic ambitions – White's speciality is in film and cultural studies – that any sense of empathy shines through.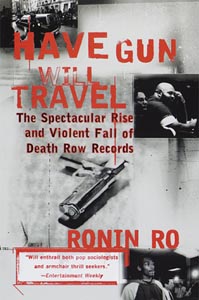 Ultimately White believes rap – and gangsta rap in particular – has betrayed the ideals of politicised seventies and eighties Black music from protest songs to Public Enemy, and Rebel For The Hell Of It cleverly analyses and contrasts the expression of Black culture in popular music over several decades like an angry Greil Marcus. Clearly appalled at the waste of talent and ambition which gangsta rap embodies, White's novel is well-argued but its academic tone ultimately lacks emotion.
Have Gun Will Travel is certainly full of emotion – most of it negative. Journalist and former rapper Ronin Ro provides an insight into the workings of the Death Row label and clearly differentiates fact from rumour and legend. Ro demonstrates beyond any doubt that, preying on the ambition and gullibility of his artists, Suge Knight made a great deal of money while his artists received little or nothing. Few artists had recording contracts and many worked for free on some of the 1990s biggest-selling albums (Dr. Dre's "The Chronic" and Snoop's "Doggystyle") while Suge received 100% of the publishing royalties.
Although many of his sources are understandably anonymous, Ro tells a compelling if frightening story of associates forced to drink urine at gunpoint, business rivals being sodomised, publicists being savagely beaten, journalists held over piranha tanks and the increasingly deranged and uncontrollable behaviour of Knight. Obsessed with movies like Scorcese's Casino (to the point of buying one of the houses used in the film) and De Palma's Scarface, Knight surrounded himself with gang members and actively encouraged the burgeoning rivalry between East Coast and West Coast artists and fans.
It's hard to feel any sympathy for the gangsta rappers portrayed in these books, the quiet and determined Biggie Smalls excepted. Tupac is vain and hot-headed, drawn to Death Row after yet another period of jail time for serious assault. Dr Dre is shown as an egotistical, self-obsessed control freak, while other rappers – Snoop included – seem to have a curious "see no evil, hear no evil" attitude when given a choice between advancing their careers and basic human decency. Ro, like White, highlights the mainstream record industry as an amoral and cowardly business which chose to ignore the activities of Death Row for as long as record sales remained high. It's an argument given extra weight by the rash of legal action and the mass evacuation from Death Row following Knight's incarceration.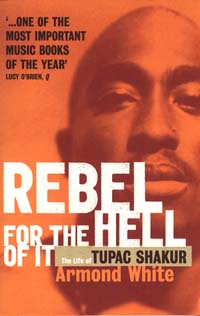 Despite the titillating content, Have Gun Will Travel is no hastily-scribbled collection of rumours. Death Row's reputation for violence and intimidation was well-deserved and Ro tracks down a sufficient number of eyewitness accounts to corroborate his story. The label's finances and criminal backing are exhaustively researched, and the result is a comprehensive history of one of the most successful and controversial labels of the 1990s. Free from the political baggage which frequently makes White's book heavy going, Ro is damning of the violence enveloping the Death Row clique but he's equally critical of the publicity-seeking moral guardians and the political indifference which created the very environment the gangsta rappers glamourised.
The stock response to criticism of gangsta rap is that it's just entertainment, exaggerated story-telling of ghetto life which sells bucketloads to middle-class white teenagers. The problem with Death Row was that the line between entertainment and reality became increasingly blurred. According to Ro's account, as Knight became more and more like the movie gangsters he idolised he surrounded himself with members of the notorious "Bloods" gang and transformed the traditional one-upmanship of rap into a Bloods vs. Crips, East vs. West contest – a rivalry which was actively encouraged by many sections of the rap media. Ro and White both point accusing fingers at journalists who were full of remorse after the high-profile deaths of Tupac and Biggie Smalls but who actively encouraged the rivalry and violence which caused them.
What both Ro and White's books demonstrate is that the rappers' deaths were only a small part of a bigger picture. The true tragedy is that, by embracing the cliches of gangsta rap, many talented Black artists glamourised rather than challenged the stereotype of violent Black American youth and simply swapped one form of oppression for another.