Craig Johnson meets the legendary member of Can who's too busy looking into the future to care much about the past
Does anybody ever go out on a Sunday night? I'm always too knackered to bother most weeks, but this particular night was an unmissable opportunity to see an unmissable psychedelic brain feast. I was out to see a space-man from another age, to see the whites of his eyes connect into the stratosphere. This man was Damo Suzuki. This space was about one foot when he strolled on sagely by after a blazing, intense, intimate and triumphant performance that came from heart of what made Can when fronted by Damo, one of the best bands of the 1970s. His current band is a world wide collective called Damo Suzuki's Network. Musicians that Damo has spontaneously hooked up with on his vocal journey around planet earth. I didn't say shit to Damo that night. Too wasted to greet the only man that can say 'I am Damo Suzuki' and not be bullshitting. The legend himself was in the vicinity. In the words of the Quiet One: It was all too much. It was all too fuckin much.
The man who had just walked-on-by was one of those genius-like men that we discover when we traverse the works of Beatles/Pistols/Nirvana to unearth the deeper jewels of rock music's cavernous domain and discover sounds that truly put character into our souls. It's then we arrive upon people like Suzuki. A longhaired Japanese man born in 1950, with a black wispy moustache and wisdom resonating from his eyes, Damo Suzuki was the singer in the German avant-rock band Can from 1971 to 1973. His sometimes serene, other times terrifying spontaneous vocal delivery and the drugged funk, space-age gothic repetition of the band carved a significant notch onto the draft of modern music.
Bands from The Stone Roses, Sonic Youth, The Coral have all embezzled from the Can archive to inspired effect. Think 'Fools Gold' or 'Metal Box'. Shaun William Ryder even managed to ram-raid Damo's stoned beat style on the Mondays' early cuts. And lest we forget The Fall's classic pagent to all things wonderful with 'I Am Damo Suzuki'. And if you didn't know, it's even been expressed that Can's underbelly of repetitive drum, bass and glacial synth sound laid the groundwork for Detroit artists like Juan Atkins to invent techno in the 1980s. The influence, importance and the sheer funked-out bliss of the band Can should never be underestimated.
I eventually reassembled the means and energy to speak to Damo Suzuki. It took nearly twelve months and to have the world yet a computer between us, but eventually we conversed. Manchester – The Wires – Melbourne – And Back.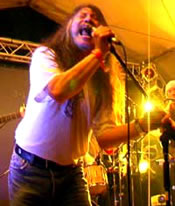 What situations led you into singing music? And how did you develop that unique style?
All creative things begin with Zero. Situation of no information. If you are free, actually you can find many ways to express your feeling. . . It's much more natural and no repetition. This is the moment we are together with audience in trance. I don't think it's unique….we're doing what all we can in the moment….TOGETHER.
What sort of music do you listen to? Any new bands out there that have sparked your interest?
I listen to almost no music deeply. I don't need much information. Before I heard Russian classical music of 20th. Jazz before the 70's, and folk music from around the globe. I'm thankful for all those sound carriers who joined NEVER ENDING TOUR project. I get inspiration from them in this music cosmos, which we are creating. All those young bands/artist who are finding their roots and creating united energy together.
You were a street artist in late 1960's Cologne What was life like? Did you find wisdom on the streets?
I was street artist not only in Cologne. I performed in European continent at that time. It was hippy time. I just liked to travel and meet other people For that I didn't have money, I made money on the street when I have nothing in my pocket to go next place. Street is where you meet people, just any kind of people. I was not only playing guitar and singing. I had no plan. I made some time happening, kind of one man theatre or painting on the street as well.
Could you explain how you clicked so perfectly into the Can sound? How did that perfect transition and that naturalness between yourselves happen?
I don't know if I was flexible enough or them. But things were sure that we hated any information, we didn't like to create music like everybody else. We're anarchist. So, for everybody it was easy to create something. When we create sound we started from zero. So, it's easy thing. Nobody should not be corrected from someone. We're all in same space.
What were the Can years like for you on a personal level?
It's almost like school days. Some times you see them on a photo and I remember I was together with them. He was good in French and he was trying to be good in mathematics. He was always clothed in short pants. To look back is a waste of time. I'm 55, already I have to see much more in front. My time is not tick tacking my time. I'm the pig man. I can't turn my neck to see back.
What was the story or reason for your departure with Can?
I left Can after being there for 3 years. It was enough for me to leave after 'Future Days'. We're getting well known band, TV's there, interviews here. I was only 23 years old and much more curious about another life.
Are there any new musical releases this year?
Very soon comes a double CD called "HollyAris"…I mean I'm going to release only doubles in future, except one CD I edited already. It's nice to have more than two hours of pure instant composed music which will never be performed again. 'HollyAris' has two location recorded live. One is in Hollywood another is Paris. As I perform with local sound carriers. CD 1 called Hollywood is performed by sound carriers from Los Angeles and Japanese guitarist Mandog. CD 2 called Paris is performed by sound carriers from France. After they formed a band called FRENCH DOCTORS as they found chemistry between them. And they are recording their first record. After this next one is also waiting to hit…which comes about a couple of months later. this is named 'SUOMI'. This is completely different….'Hollywood' brings you a much more Californian air. 'Paris' brings you male perfume. But this is hard rock in Sauna. Suomi means Finland. This double CD is one is recorded at Turku, I guess the second Large city in Finland. And an another recorded in Helsinki. Sound Carriers are two German, an American, a Ukrainian and a Japanese (me!!!)
You bring together many musicians via your Network. It must be a huge worldwide collective? How do you find that experience?
Yes, the list of sound carriers are getting long. Some big cities like London or New York…is really long list that I have to perform there for every month some years long. And sound carriers who performed once, they like to make it again……I'm crying for happiness. No matter which musical field they belongs to. Ages, male or female, Nationality whatsoever. Or long experience as a professional or who've never played since 20 years. For sound making is not that important all those information you are carrying…..most important is ambition which brings positive energy. And we become one unit. Then we can create time and space of the moment.
Do you write lyrics, do you map out ideas or is it all pure spontaneity?
All is spontaneity.
What are the many languages in your music? Words has no meaning in sound making. I don't like to sing messages while WE are creating together. I'm not leader of the moment creating. Everybody in that room is involved and everybody have own function, that I don't have to force their creativity with my words. All music instruments has own words, why vocal must be middle of all? I use my own language mostly…which is non-documented language. My word of the moment which is used as music instruments.
What channels do you take to get to the place you reach inside when you create your music?
When sound carriers are on the stage, there works a magnet field between us and we get chemistry and it works. Sound creating is limitless world of time and space. You can go to any direction as we find information at the moment…one can make one music, two can make three music. I mean. It's our conversation and understanding.
Are you aware of the huge influence you've had on bands like The Fall in the UK? Do you get much contact from any UK bands?
I say it's not bad they found something about us, they had good tastes. I have many contact with UK bands as I perform every time with different sound carriers in different cities. Mostly young unknown but ambitious bands. To make contact is easy today with internet access. Internet is the greatest development for years.
In May you are playing major UK cities. How do you find the UK?
UK is something special. It works well with instant composing. Even small places there's always carriers who like to perform with me and their quality of playing is high. Audience is honestly…if they like it they like it. They are not shy to travel for long distances to visit and be in our event. Sound carriers who performed with me mail me to perform with them again and some of them organise shows with themselves. Fancy witnessing a musical legend in close motion then? An icon of the psychedelic-punk age? The man who taught most of our musical masters to sing? To be able to see the whites of his wise eyes sing out sweet and formidable odes. 'This is the moment' says Damo, 'we are together with audience in trance.' We're not talking Phil Collins here. The venue's Damo and his Network will be playing are intimate in size, and should capture a certain incomparable atmosphere if you've never seen his performance before. Don't exactly walk on glass to see this one-off underground superstar, but you could try crawling. It might be worth it. And if you wanna join him for a psychedelic freakout session then you can always have a word with this guy. He's cool. He's approachable. He's Damo Suzuki.