Bethan Roberts
It's a relief to find that once you get beyond the mouthful of a title, this second novel from the fantastically talented author of Anita and Me, Bhaji on the Beach and star of the rightly acclaimed BBC2 comedy series Goodness Gracious Me more than lives up to Meera Syal's reputation.
It tells the story of three thirty-something Asian women – firm girlfriends about to have their bonds severely tested by men, marriage and careers. There's the drudgingly married Sunita – once student anarchist, now dowdy struggling mother; the sexy, swaggering Tania – media babe/bitch who has everything sussed (apart, of course, from her personal relationships); and there's the naïve Chila, who the other two like to think they are protecting from the harsh realities of their worlds. When Chila marries catch-of-the-community Deepak – all fast cars, black ash and slightly dodgy London money – the women's relationship changes subtly. As her marriage falls apart, Chila slowly becomes the survivor of the group, whilst the others find themselves taking their cues from her.
Witnessing Chila's liberation from her velour-suited, fitted kitchen-with-samosas-always-at-the-ready world is a thrill. Her transformation is one of the wonders of the book – taken slowly and with tender humour, hers is nothing like those magazine make-overs in self-esteem. Chila's was always there: it was more a question of other people seeing it. Another jewel is the acidly comic depiction of Tania's struggles in the world of television that sees her as an exotic pet. Tania wants to take on those white men in suits, but finds that in doing so she ends up playing their game: used as the token Asian woman, she is alienated from the very community she is supposed to represent.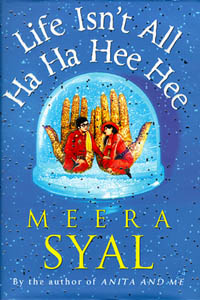 Life Isn't All Ha Ha Hee Hee is one of those wonderfully effortless books: full of charm, biting humour and affecting observation, but always irresistibly readable. As with everything Syal does, despite giving the reader a smooth ride, nothing in this novel is lazy or obvious. Syal's real skill lies in turning surprising, glintingly intelligent ideas into seamless amusement.
I could go on about the cleverness of Syal's dissection of family relationships, her insightful depiction of all sorts of Anglo-Asian identity questions and pleasures, her sensitive portrait of the complexities of British-Asian mother-daughter relationships, and even the way she doesn't forget about a generation of men who find themselves 'lost' in the wake of feminism – but these things aren't what will make you read the book, as she well knows. What will make you read it is the blinding, cheek-aching funniness of it. There is a particularly hilarious scene involving a randy woman and a pop sock. And the thing that will keep you reading is the novel's warmth: this is primarily a story about female friendship, one that, refreshingly, believes in a kind of sisterhood that can pull through the worst of times with the odd smirk and occasional belly laugh. Just don't let that lame title put you off.