Chris Mitchell
Thanks to the globalising effect of new technologies, Britain is transforming from an industrialised economy to a knowledge based economy. Unlike previous generations, many of us make our livings not by producing anything tangible but through the absorption and analysis of information. This, maintains Charles Leadbeater, is the advent of a new economy that requires radical innovation to ensure political and social life both keeps pace with, and benefits from, the advances in technology and science.
Leadbeater is well-placed to attempt such an overview, thanks to his credentials of being a Demos think tank research associate and the former Industrial Editor and Tokyo Bureau Chief of the Financial Times. Leadbeater also has the ear of the Blair government. Having already written a White Paper published last year entitled "Building The Knowledge Driven Economy", the front cover of Leadbeater's book is emblazoned with an endorsement from the Prime Minister.
The new economy, argues Leadbeater, is driven by finance, knowledge and social capital, the last of which is an ethic of trust and collaboration. It's easy to see these three factors at work within the tech market, especially social capital, where companies network together for mutual self-interest and reward. This open, inclusive approach, where one's competitors also become one's collaborators, allows companies to react to innovation far faster than corporations that remain closed to outside influence.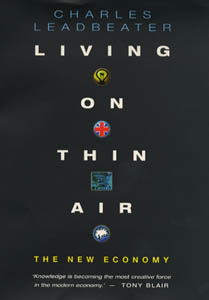 The philanthropic approach of sharing information rather than the protectionist stance of jealously guarding ideas has a transformative effect both on companies and on society. Leadbeater provides a lengthy analysis of Chicago's Shorebank, a community bank that experimented with investing in some of its city's poorest areas. By distributing cheap, easily repayable loans that were tailored to individual circumstance, Shorebank managed to make a handsome profit and bring prosperity back into those areas as local people could afford to buy their own houses and start their own businesses, putting their own ideas into effect.
It's this inversion of old economy ideas – going where the money isn't – that Leadbeater thinks can marry capitalism and social values, where profit can be a side-effect of building community. The same principle can be extended to less economically advanced countries who can exploit the needs of the knowledge economy rather than being reliant on producing commodities. India's thriving IT industry is one such example.
Living On Thin Air is an unashamedly visionary book that is big on ideas but relatively short on detail about how such ideas can be made to come about. That, arguably, isn't Leadbeater's job anyway – it's up to companies and politicians themselves to realise and pragmatically exploit the benefits of the knowledge economy. Leadbeater's book simply provides an interesting map of what's possible.