Chris Mitchell
Throughout his film-making career, George Lucas has continually pushed back the boundaries of technology in order to realise his ideas on the silver screen. John Baxter's biography of the man is not only an account of Lucas' personal history but also the transformative effect Lucas' fascination with technology has had on the entire movie industry since the advent of Star Wars.
While Baxter's biography (published under the title Mythmaker in the States) is not authorised and he lacked any direct contact with the publicity-shy Lucas, his exhaustive research provides a balanced overview of Lucas' career. Although Baxter doesn't shy away from discussing the detrimental effect of Lucas' driving ambition on both his marriage and many of his friendships, he prefers to concentrate on Lucas' movie innovation and the building of the LucasFilm empire.
What becomes most apparent in Baxter's portrayal of Lucas is his fascination with technology's ability to create filmic illusion on a grand scale, rather than a fascination with movies themselves. From his first experimental picture THX1138 through to Star Wars, Indiana Jones and The Phantom Menace, Lucas continually sought ever-grander ways to put the audience on the edge of their seats, rather than conveying a message or making social comment.
In doing so, he inaugurated the age of the blockbuster, where spectacle took precedence over everything else. Lucas summed it up himself by saying "I'm a film-maker, not a director. I like the physical part of making movies. I might be a toymaker if I wasn't a film maker."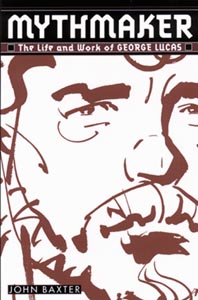 The strain on Lucas' health making Star Wars meant that he avoided sitting in the director's chair for another 20 years until The Phantom Menace. Much of that strain was caused by the creation of Industrial Light And Magic to produce Star Wars' special effects, most of which had to be created completely from scratch.
Along the way, ILM created Photoshop, which is now the industry-standard computer graphics application, and later Pixar, who became a separate company and pioneered the digital animation of Toy Story and A Bug's Life.
It's apparent that Lucas returned to directing with The Phantom Menace precisely because the technology had finally caught up with his vision. Digital editing allowed him absolute control over the movie's execution, rather than the fraught creation of Star Wars.
Ultimately Baxter's biography portrays Lucas as a maverick who refused to kowtow either to Hollywood or to accepted notions of what makes a movie picture. It's an immensely readable account that will appeal to Star Wars aficionados and film fans alike. It also acts as a fascinating overview of the way the movie industry has changed over the last 25 years and how much Lucas' independence and interest in exploiting technology helped shape that change.